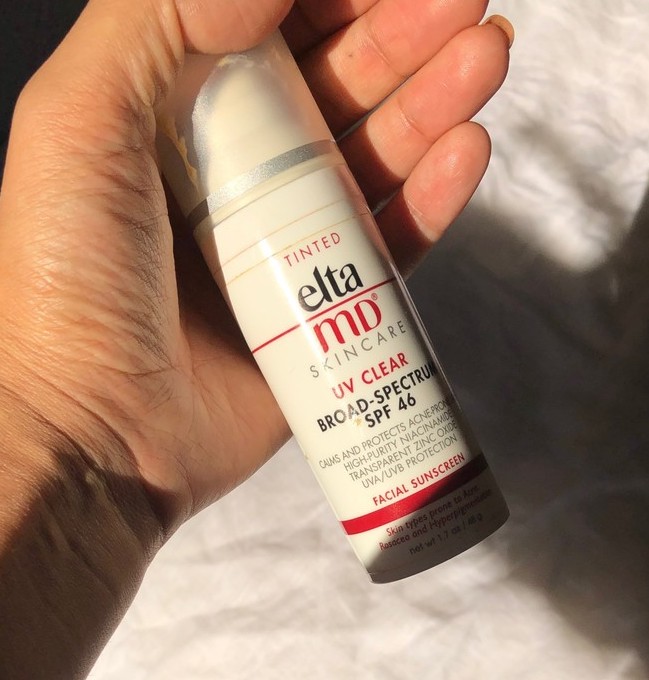 @eltamdskincare Broad Spectrum – Clear SPF 46⁠

You know you've found yourself a keeper when you keep clicking repurchase. #repurchasealways⁠
⁠
Composition: Active: Zinc Oxide 9.0%, Octinoxate 7.5%.⁠

✨Ingredients:⁠
✅Octinoxate- The one filter that makes me cry in such a terrible way is Avobenzone, I literally squint, cry and scrunch my face and look unrecognizable if this ever gets into my eyes. Octinoxate, on the other hand, can give me some discomfort but the reaction is usually 10 times less than Avobenzone.⁠

✅Niacinamide – Great for acne, good for #hyperpigmentation good for barrier repair, good for rosacea skins and the list goes on. (See separate post on Niacinamide as an ingredient #bwingredients)⁠

✅Zinc Oxide – Calms my reactive blemish-prone skin⁠.

PROS
-Works across diverse skin tones ( from fair to dark) #poc⁠
-Works well on sensitive acne-prone skins⁠
-Doesn't irritate my eyes even if I apply it to my eyelids. ⁠
-Doesn't make my upper lip "hot" (some sunscreens give me a heat sensation on my upper lip).⁠
-Seems to blur my imperfections (although this does not have a strong tint).⁠

CONS
Potentially- those that are not acne-prone or have dry skins may find this a little drying.⁠
⁠
Overall⁠
A beautiful sunscreen which works extremely well for problem skins like mine.⁠

Regrets: ⁠
The only regret that I have is I missed the @skinstore and @harbenhouseawesome deals on this SPF whilst I was on holiday 😞.