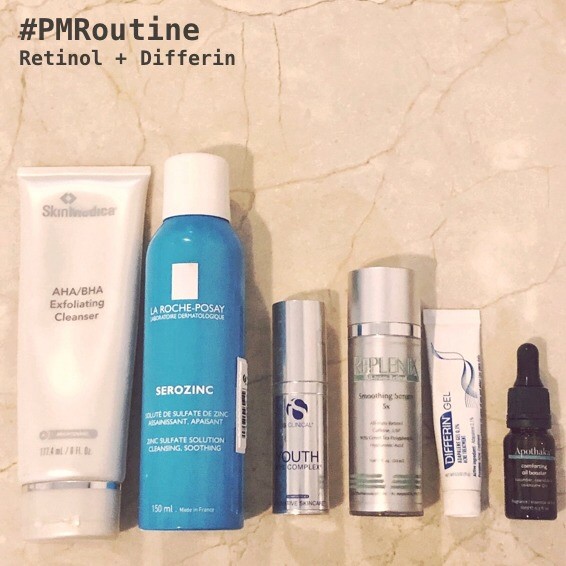 Sorry guys I haven't been up here on IG lately, firstly I have been super duper busy planning our summer holiday with the kids and secondly, I have all these half-written posts and infographics that I really want to post but I just need the time to be able to sit down and edit them. 

Also a big "Hello" to the new followers that have joined me over the last week. I am thinking about new content to create and I have more Infographics and videos on the way (since you prefer them) but please message me if there is anything, in particular, you want to see. I did a recent Q&A on Lightning vs Brightening + Comedone Ingredients post after a DM requesting for clarification on this. So if there are any other ingredients or topics you would like me to cover just send me a DM I'd be happy to cover them at some point.

This has been pretty much a staple routine of mine for some time but I just received @apothaka comforting oil booster in the post so I decided to squeeze it in.

💫@skinmedica AHA Cleanser – A general "OK" AHA cleanser but I am not a fan of bits, beads, pieces in my cleanser so this is just going to be quickly used up.

💫@Larocherposay Serozinc a forever buy. A highly recommend this to anyone who is acne-prone, prone to congestion, someone who gets oily quickly during the day. It's a bomb full stop. 

💫@ISclinical Youth Eye Complex – More to come on this.

💫@Replenix 0.25 Retinol – Not a fan of heavy silicone formulas but for those sensitive to 1% Retinol this is a serious contender.

💫@Differin around the chin and forehead where I have been getting a few more pimples- If you are feeling a few under the skin bumps, time of the month, experiencing breakouts this helps. 

💫@apothka Comforting oil booster- Includes one of my favourite antioxidants Ubiquinone.

Otherwise, I hope everyone is having a lovely weekend!