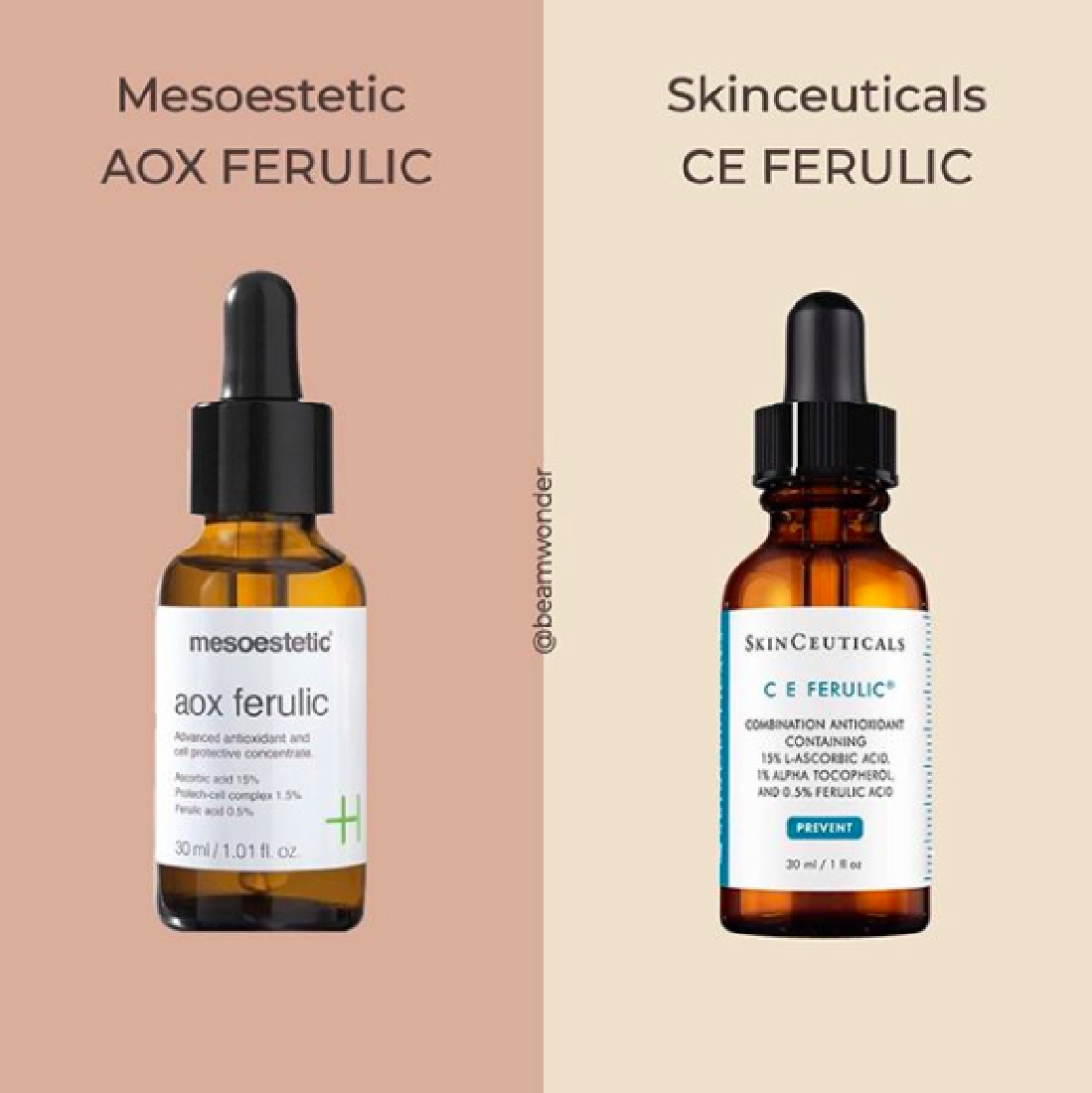 High Grade Performance Vitamin C⁠⠀
LAA- L Ascorbic Acid Serums⁠⠀
.⁠⠀
⁠⠀
I was asked for comparison on Mesoestetic 15% LAA versus Skinceuticals 15% LAA. So here you go!⁠⠀
.⁠⠀
These are 2 great L Ascorbic Acid/ Vitamin C serums (If your skin is able to tolerate L Ascorbic Acid that is , I say this because I know that there are many of you that struggle with L Ascorbic Acid and with all the choices of alternative Vit C's available do not worry if these do not meet your skin needs).⁠⠀
.⁠⠀
Before I run down a quick comparison between the two serums just a quick recap for those new to my account Vitamin C is an ingredient that you want to incorporate into your skin routine if you can because of its potent skin benefits: ⁠⠀
✨Firming- Collagen boosting ⁠⠀
✨Brightening- preventing/treating photo-damage⁠⠀
✨Protection – Antioxidant working against oxidative stress ⁠⠀
.⁠⠀
@skinceuticals_uki CE Ferulic – The original always touted Vitamin C⁠⠀
.⁠⠀
15% LAA with Ferulic Acid and Vitamin E providing firming, brightening and antioxidant protection. Low PH 2 -3.5 which can be irritating to many skins considering the normal PH of our skin is around 4.5-5.5⁠⠀
.⠀⠀⁠⠀
✅Texture – Relatively light, slightly tacky⁠⠀
✅Smell- not entirely pleasant but this doesn't bother me.⁠⠀
✅Price – 166$ /135GBP (30ml) ⠀⁠⠀
✅Suitable for: All skin types although I find it works best on dry non-acne-prone skins.⁠⠀
✅Ingredients: Ascorbic Acid, Glycerin, Ferulic Acid, Sodium Hyaluronate, Tocopherol (Vitamin E).⁠⠀
.⁠⠀
🔆Results:⁠⠀
Although I think this is a great serum I do find my skin gets easily congested with this serum than its sister Serum 10 which is a 10% LAA with Ferulic. If you are acne prone I would recommend Serum 10 over this (as it has the omission of Vitamin E which can be a comedogenic ingredient depending on the source of Vitamin E and whether it's a natural form or synthetic form). In the past when I have used the CE Ferulic serum I have also paired it up with a moisturiser for acne-prone skins. If you are new to the world of Vitamin C, a good Vitamin C will leave your skin with noticeable results within 1-2 days of use and this really does live up to its brightening claims Unfortunately the results do taper off as the serum begins to oxidise at about 15-25ml into the bottle. So I really do hope they make this in a smaller version for all the CE Ferulic fans out there I did see an advertisement for a 15ml bottle but I cannot seem to locate it on their site.
Mesoestetic: AOX Ferulic
.
15% LAA , with additional antioxidant protection from 0.5% Ferulic and Vitamin E/ peptide "protech-cell complex" at 1.5%- strengthening the overall antioxidant action by providing the skin with additional protection against harmful light exposure and sun induced inflammation. .
✅Price – 98$/ 89GBP(30ml) dropper bottle⠀
✅Texture: light watery non sticky serum, just a breeze to incorporate into a routine. ✅Smell: mmm (not really sure what to make of it) I also find I am a lot more impartial to smell as long as the treatment gives great skin results.
✅Suitable for: All skin types, works well on oily kins. ✅Key Ingredients: Ascorbic Acid, Propanediol, Tocopherol Acetate, Ferulic Acid, Bis-Ethylhexyl Hydroxydimethoxy .
Overall
,
Overall such a great lightweight texture with good brightening results (within a few days of use). Note it also has an additional antioxidant to the CE Ferulic preparation which gives it a slight edge over Skinceuticals formula. This formula also has not broken me out nor has it irritated my skin, my skin seems to prefer the lighter watery texture. Absolutely glad that I got to try this serum and if you are looking for high grade 15% L Ascorbic Acid as an alternative to Skinceuticals CE Ferulic I cannot recommend this enough you will not be disappointed. In terms of oxidation my serum has just started to oxidise now and I probably have about 15% left in the bottle.
.
** Just a note I don't talk about this enough but if you are pregnant I find it very important that you discuss your skin routine with your doctor especially if you are using skincare with actives.