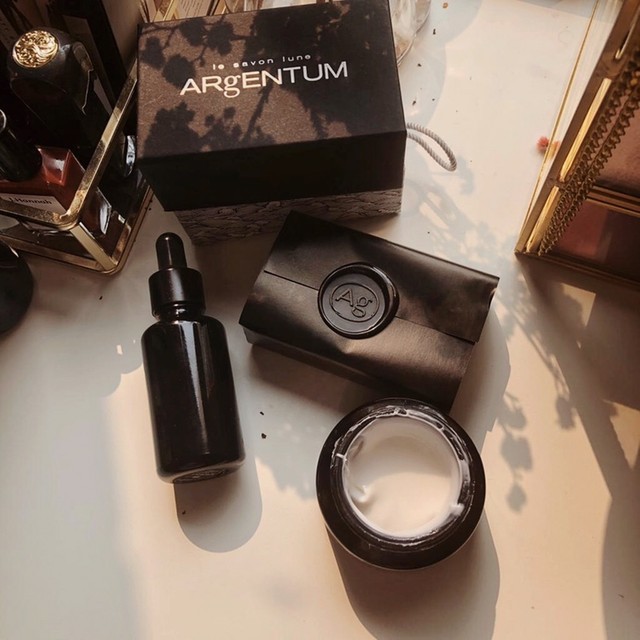 These are @argentumapothecary goodies I won from @the.wrinkle.phobic a month or so back and I couldn't be more chuffed ❤️

The honest truth is that I really wanted to try this brand primarily because of the use of Silver Hydrosol (Hydrosol).⁠⠀

Silver Hydrosol is a fantastic ingredient – antibacterial, anti-inflammatory, balances skin flora and promotes skin regeneration. It is used historically in many cultures alongside other precious metals for its healing properties. You already know that I am testing the @lepaar Gold facial oil so I wasn't going to open this until the start of next year however I really couldn't resist. The packaging is just too exquisite. I ran some test patches on my skin over the last 3-4 days (since it does contain a few red flags, (ingredients I do not like to see in skincare) one being "synthetic fragrance".⁠⠀
⠀
My concern with synthetic fragrance is being a person with reactive, sensitive but above all anaphylactic skin it is very difficult to determine the exact use of ingredients in synthetic fragrances and in the past, certain products have caused a reaction and it is a nightmare to get to the bottom of the exact ingredient when fragrances are involved. Overall I prefer to avoid fragrances altogether and if I do come across them I tread a bit more carefully. The blurb reads – the signature scent (created by a prominent Grasse perfumer, specialising in natural ingredients) is an intoxicating blend of citrus, rosewood, geranium, sandalwood, and patchouli. Now French houses are renowned for hiring a perfume specialist to create a signature scent for their collections think Caudalie and numerous others. So Argentum Apothecary philosophy sits very much in line with a classic French luxury house. So if you are from the classic French school of thought this is going to fit nicely into your dressing table.