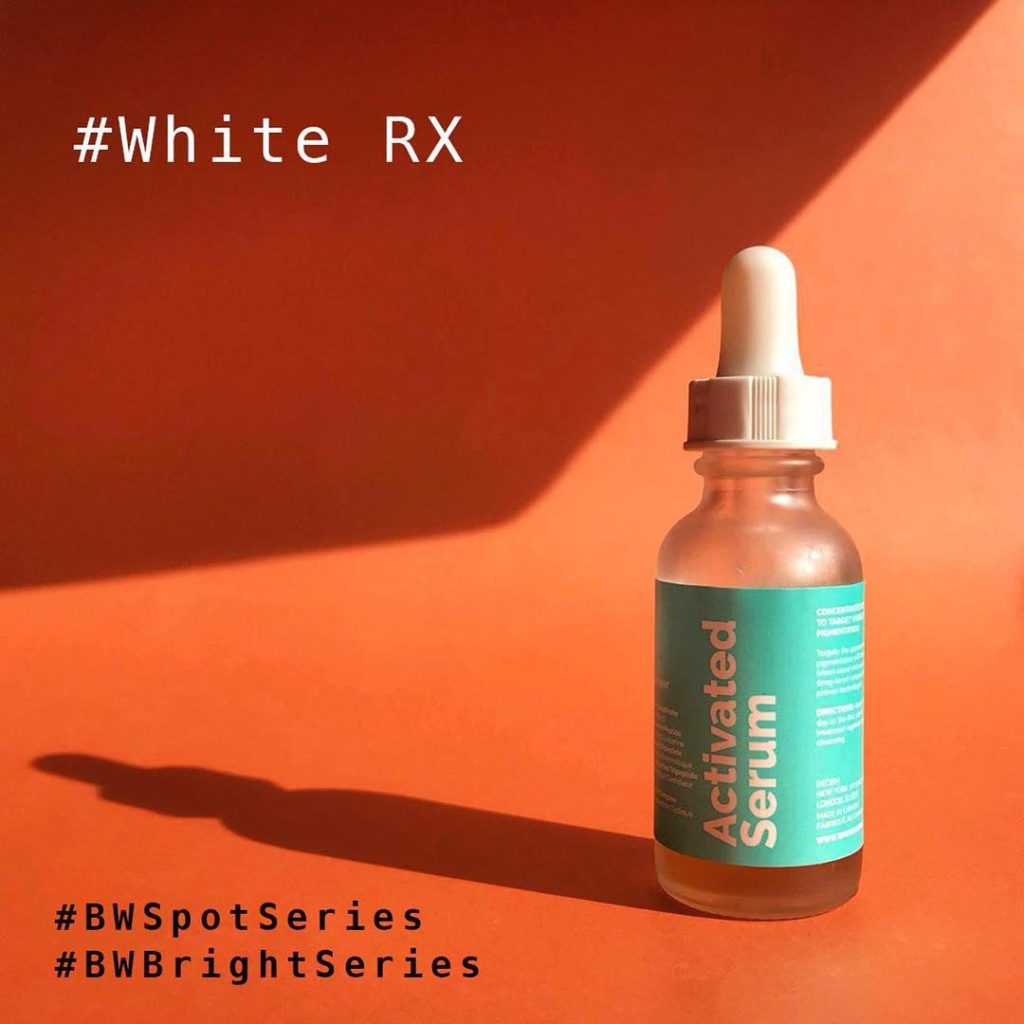 Sorry it took me a while to write the last post on my brightening serums I was too busy enjoying myself on a sandy beach 🏖😌
So going back a few days, I talked about Alpha Arbutin (AA) as a tyrosinase inhibitor (that works by blocking or sedating the production of melanin which causes your skin to have dark spots). After trying this and having moderate to good results with it, I decided to give White RX a go which includes AA plus other technologies/ingredients that use a multiple pathway approach to tackle hyperpigmentation. #BWBrightSeries
⠀
Price: $49 ⠀
⠀
Texture:⠀
It's lightweight and absorbs fast into the skin. ⠀
⠀
Scent:⠀
Smells like chemical, but not so bad really.⠀
⠀
Suitable: ⠀
For those suffering from hyperpigmentation, dark spots and sun damage.⠀
⠀
Key ingredients/technologies/ studies: ⠀
🏆 Oxidised Reactive Glutathione – Stabilizes L-Glutathione in very high concentrations. L-Glutathione is known to be an effective depigmenting agent/ tyrosinase inhibitor but it's extremely unstable (Watanabe et al, 2014) as well as having antioxidant properties to neutralise free radicals and preventing cellular damage.⠀
🏆 Acetyl Glycyl B-Alanine Peptide – The trade name is GenoWhite (Taiwanese manufacturer). A skin-whitening peptide that claims to brighten within 9 days with continued improvements such as reducing melanin production and inhibiting melanin transport. ⠀
🏆 Biomimetic Hexanoyl dipeptide – It has a long-term brightening effect through interrupting enzymatic melanin production functions. Biomimetic Hexanoyl dipeptide reactivates the natural desquamation process to reveal a brighter, smoother and an even skin tone. ⠀
🏆 Ultra-pure alpha arbutin – a pure and non-toxic form of alpha arbutin⠀
🏆 Cyclic nonapeptide complex – Inhibits the genetic expression of tyrosinase for shorter and longer-term overall visible lightening of the skin⠀
🏆 It also contains Glycolic & Lactic acid (exfoliating dead & dull skin).⠀
⠀
PH: 3-4.⠀
⠀
Price: 49 USD⠀
⠀
How I Use it?
I have been using this around my mouth area during AM/PM straight after cleansing (due to its low PH) and always with a SPF 50 (reapply SPF throughout the day on hot sunny days).
My Experience:
Overall I saw my melasma and hyperpigmentation lessen to some degrees and it was a visible difference. After 4 months of consecutive use, it did not completely fade away my dark patches but it did lighten them. (see pictures). Overall, I have been very happy with this serum and if I continued to use this over a longer period of time the results may have been far more impressive. Just a quick note: I also used it on all over my face a few times to observe the effect. I did notice my skin looking generally brighter after a few days but I stuck to using this more as a treatment for just those stubborn dark patches.
I would also definitely repurchase this if it wasn't already sold out and It's actually been sold out for months so perhaps Deciem NIOD Re:pigment is here to stay as a replacement 🤷🏽‍♀️ (this also targets hyperpigmentation, uneven skin tone and dark spots)
Winning factor:
👍🏻 Multiple active ingredients to tackling brightening/ lightening of the skin in addressing hyperpigmentation ✨
White RX 🆚 Alpha Arbutin
I did see better results with White RX than I did with Alpha Arbutin alone, so I would choose this above AA for stubborn areas. If you did not see any results with AA alone, I would suggest giving this or Re: Pigment a go.
Next up on my list: Re:pigment
This also has a more neutral pH of 5.50 – 6.50 which will probably work better with my skin so I look forward to giving this a go next (as I am seeing some fab reviews on this so far from @skincaremagpie @lathertolashes )!