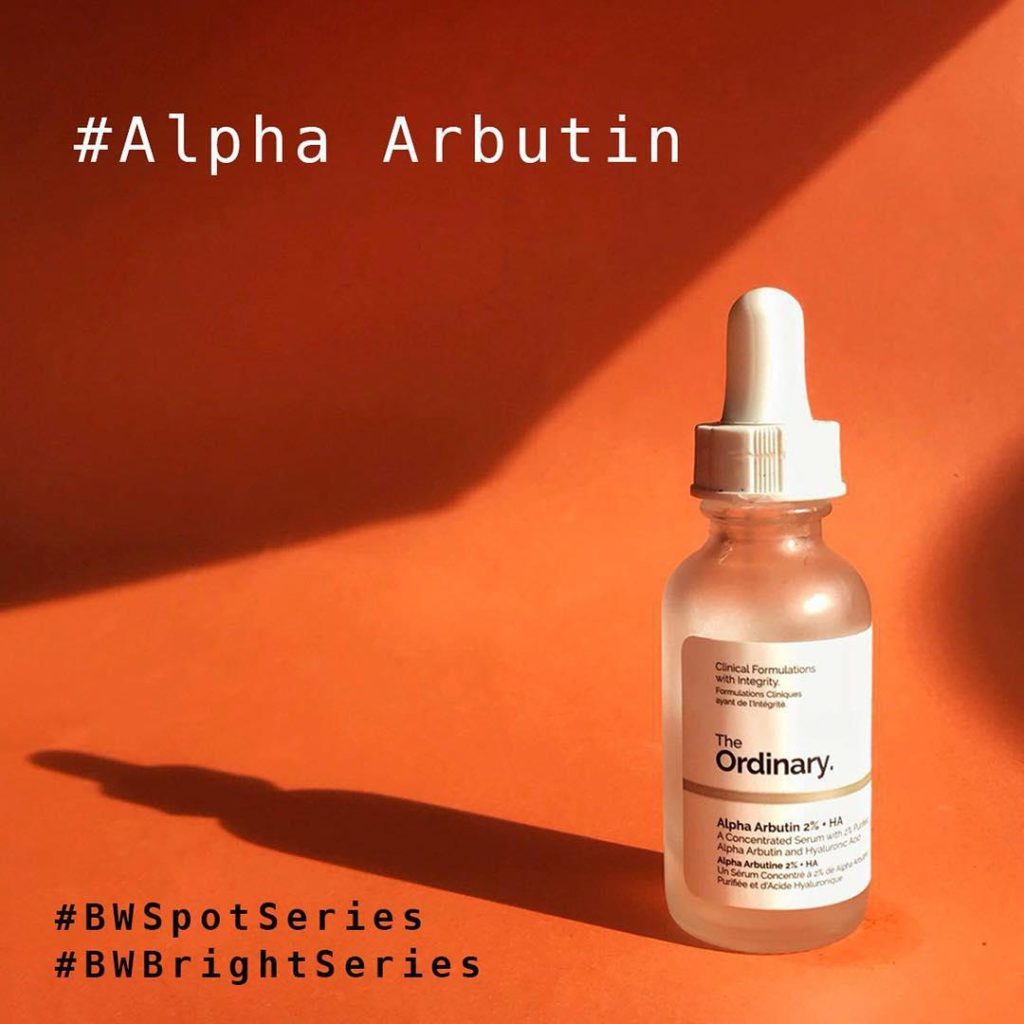 I have literally lost count the number of times I have seen this ingredient across Japanese, South Korea and East Asian products. So this is not the first time that I am coming across this ingredient but it was the 1st time that I bought AA at this particular marked %.⠀
⠀
Before I go into why I am using AA, I'm just going to quickly whizz through hyperpigmentation and how this serum helps in ONE aspect of dealing with hyperpigmentation. ⠀
🤔 How do we get Hyperpigmentation:⠀
Hyperpigmentation or areas where the skin becomes darker than surrounding areas occurs when melanin is overproduced in certain spots on the skin. There are many reasons why this occurs from environmental to hormonal, allergies, hair removal, medication and more. ⠀
As for me, I have small pockets of hyperpigmentation around the corners of my mouth, on my upper lip and dark spots that were left behind from acne.⠀
⠀
Skin cells called melanocytes produce melanin in the body and Tyrosinase is the key enzyme that catalyzes melanin production in our skin cells (melanocytes). Think of a potato or an apple, what happens to it when you peel it? It starts to discolour and go all brown. This is enzymatic browning where tyrosinase catalyses the production of melanin. ⠀
⠀
Inhibitors of the tyrosinase on the other hand are often used to counteract this effect. This is where hydroquinone, azelaic acid, kojic acid, arbutin, and certain licorice extracts, can help to lighten discolouration by acting as topical tyrosinase inhibitors. It's one way that I try to deal with hyperpigmentation, darker blotches and dark spots.⠀
⠀
PH: 4.85 – 4.90⠀
According to Scientific Committee on Consumer Safety (SCCS), "the stability of alpha-Arbutin in buffered aqueous solution is pH-dependent showing highest stability at about pH 5.0" .The Ordinary's Alpha arbutin has a pH of 4.85 – 4.9.⠀
Price: $12.90⠀
Texture:
The serum has a similar consistency to a thick hydrating serum, yet it does not foam up like TO Niacinamide + Zinc and is also less tacky. It absorbs fast but leaves my skin feeling a little sticky which takes a little getting used to.
Scent: No particular scent (nothing that I could smell anyway).
Suitable: I would say this is suitable for all skin types including sensitive skins.I noticed no tingle or sensation after application. Great for those with hyperpigmentation, discoloration, dark spots and sun damage issues.
Key Ingredients: 🏆 Used at 2% Alpha arbutin concentration (compared to a standard 1%)
🏆 1% HA for enhanced delivery of alpha arbutin + hydration
Studies:
✏️ A study showed that Alpha Arbutin inhibited tyrosinase 10 times as strongly as beta-arbutin (Funayama et al, 1995)
A lightening study showed that 1% alpha-arbutin had better lightening results when compared to 1% beta-arbutin, 1% kojic acid and 1% hydroquinone. (Ziegler et al, 2003)
Caution:
Scientific Committee on Consumer Safety considers alpha-arbutin to be safe up to 2%. Although, higher concentrations may be more efficacious there is the "greater risk for paradoxical hyperpigmentation" (Maeda and Fukuma, 1996). (as well issues with sensitivity). .
My Experience:
I have used this in many ways – alone, with Niacinamide + Zinc, after vitamin C, with Vitamin C and after Retinoids. When using it alone for the first 1-2 months, I noticed little if any true visible difference in my skin. Some of my friends who are lighter in skin tone did notice some difference, however mine was miniscule if any. However, it was not until I started to use it with Niacinamide + Zinc or with Vitamin C did I notice some great results. My skin is clearer, brighter and less dull looking. I did find areas of discolourations gradually lighten but some of the stubborn areas remained. This is when I moved on to WHITE RX from Deciem to see if I could fade the remaining further (review coming up next 😉).
Winning factors:
👍🏻 Works well with other products to give you clearer brighter skin tones. You can use it day and night after cleansing, toning or actives.
Repurchase:
I will repurchase this at some stage just not right now as next up on my list is Re:Pigment by NIOD. I have seen so many of my my fav ladies @skincaremagpie @lathertolashes @mrsjassyglows give this a go (and I'm sure there are more of you using it). I would like to see how this compares to AA and the other de-pigmenting treatments that I have been using.
Results:
Just so that you know, my melasma and dark scattered patches have lightened significantly from 12 months ago but not completely gone 😔. (note I have only used topical treatments). I'll post some pics tomorrow.