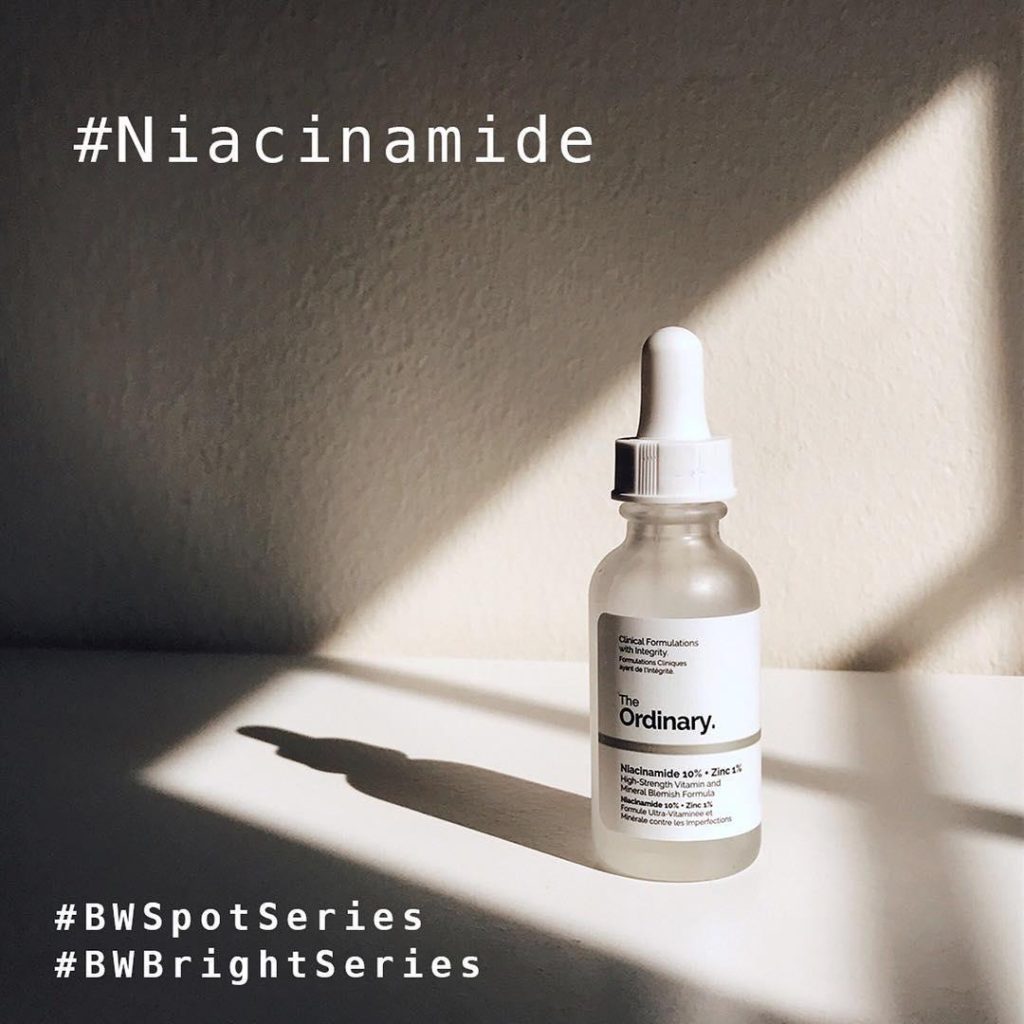 Day 3 of #forthehealthofit hosted by @my.strange.days and @thebeautyconservator – Star Ingredient⠀
⠀
#BWIngredient spotlight on Niacinamide – really an ingredient that has the most noticeable effect on my skin. #BWSpotSeries #BWBrightSeries
Blemishes? Barrier function? Hyperpigmentation? Scars? Do we have all bases covered?
⠀
Before I go into my experience, I will just very briefly explain what is Niacinamide? It is a multipurpose ingredient (Vitamin B3 in the form of niacinamide) that has an overwhelming list of benefits (see below).⠀
⠀
Niacinamide 10% + 1% Zinc PCA (Deciem)⠀
⠀
Price: 10USD⠀
⠀
Texture:⠀
Gloopy but not sticky, tends to foam a little when massaging it onto the skin. So I like to use the asian patting method when applying this serum.⠀
⠀
Scent:⠀
Smells like "nothing-ish" 🤔⠀
⠀
Suitable: Great for combination to oily skin since it does have additional Zinc PCA 1% for sebum regulation. ⠀
Key Ingredients:⠀
🏆 Zinc PCA-helps control/balance sebum production⠀
🏆 Tamarindus Indica Seed Gum- polysaccharide that moisturises and smoothes the skin⠀
🏆 Niacinamide Skin
Benefits: ⠀
✔️ Anti-inflammatory, Antioxidant, Improves epidermal barrier function, reducing transepidermal water loss and retaining moisture ⠀
✔️ Increases skin elasticity, boosts collagen production⠀
✔️ Improves skin's natural ability to protect itself from external aggressors – reducing redness, blotchiness and sensitivity.⠀
✔️ Prevents excessive sebum production – When the skin retains its natural moisture, the natural oil flow of the skin becomes controlled (suited for oily skin), improves appearance of enlarged pores⠀
✔️ Hyperpigmentation, helps fade acne scarring⠀
✔️ Acne treatment (I used it more for prevention than cure).⠀
NOTE: Deciem does not propose it for acne treatment.⠀
⠀
Studies:⠀
✏️ Topical 5% niacinamide provides significant improvements in reducing fine lines, wrinkles, hyperpigmented spots, red blotchiness, skin sallowness and increase skin elasticity. (Bissett and Berge, 2005)⠀
✏️ Niacinamide is an effective skin lightening compound that works by inhibiting melanosomes transfer by 35-68%. (Hakozaki, et al, 2002)
✏️ 5% nicotinamide gel (4-5% Niacinamide) is at least as effective as 2% clindamycin gel for treatment of mild to moderate acne vulgaris (Shahmoradi et al 2013)
✏️ Niacinamide is shown to decrease the severity of mild to moderate acne vulgaris. (Veraldi et al, 2009)
✏️ Topically applied 2% niacinamide + sunscreen lotion significantly decreased hyperpigmentation and increased skin lightness after 4 weeks of use (Hakozaki et. al, 2002)
How have I been using it in my daily skincare routine?
– During both my AM and PM routines.
– With Vitamin C (Vitabrid C12 contains 5% Niacinamide already)
– With Alpha Arbutin and Hyaluronic Acid serums.
– After actives like Retinols, Acids etc (Since it is effective at a higher PH, it's best to use actives before applying Niacinamide).
– Before other antioxidants & SPF
– I usually pat a few drops into my skin rather than massaging it in.
My Experience:
I have been using this more of as a preventative treatment, helping keep my skin in check (barrier functioning at its optimal) in order to fade scarring, keep blemishes at bay and reduce hyperpigmentation, in conjunction with other actives in my routine (like Salicylic Acid). It has worked well in decreasing skin congestions, as well as slightly reducing the appearance of pores with smoother skin.
Yet, I felt it helped the most on the overall clarity of my skin and in helping fade previous acne marks quicker than usual. Overall, my skin looks clearer, brighter, smoother and it's definitely an ingredient that I like to look out for preferably within the top 6 of listed ingredients to get some of the preferred benefits. .
**Note that I did feel this worked better on more surface hyperpigmentation and not deeper and more stubborn marks or melasma.
Some other amazing Niacinamide products:
❤️ Asian sheet masks
💛 Vitabrid C12 (5% Niacinamide)
💚 Cerave PM moisturiser 4% Niacinamide
💙 Ceramides, Niacinamide and HA
💜 Paula's Choice 10% Niacinamide booster
💖 Sulwhasoo Snowise Brightening Spot Serum