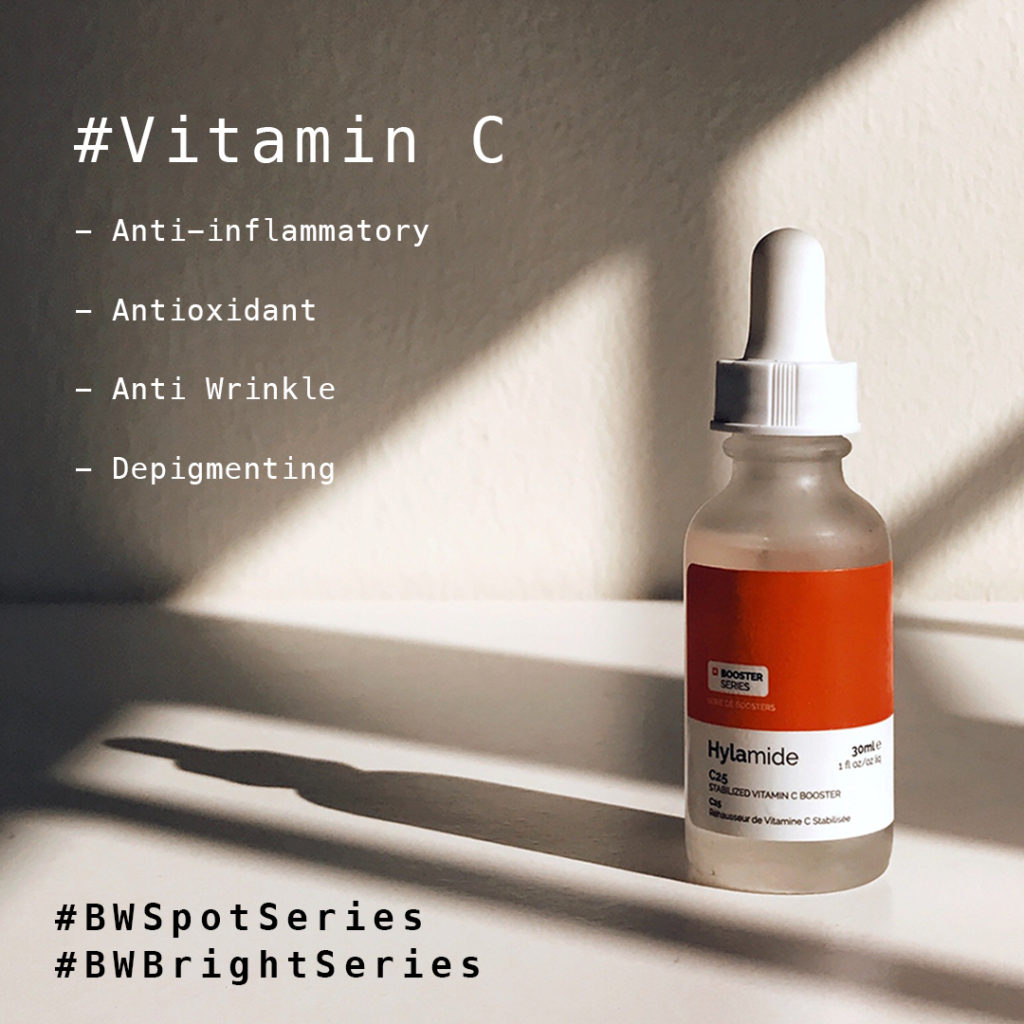 In the final part of this #beamlight post, I would like to cover the various Vit C derivative options. As you know, L-Ascorbic acid (LAA) has many disadvantages such as stability, oxidation. So rather than spending a fortune on something which might become a dud product in a few weeks or months I decided to give other Vit C derivatives a try to see if they were a better option (mostly from Deciem & Dermalogica). Deciem and new brand launches such as Sunday Riley and SkinBetter Science are really exploring Vitamin C derivative options in their skincare lines.
The plus side is they seem to be far more stable than LAA, with the ability to convert into Ascorbic acid in the skin, some without PH dependency and have equally amazing benefits (note they are not as well researched as LAA).
Types of Vit C derivatives:⠀
1. Sodium Ascorbyl Phosphate (SAP) – A water-soluble form of Vit C that retains most of the benefits that pure Vit C has. At 1%-5% concentrations, SAP can also act as anti-acne treatment (Klock et al, 2005). A study on acne patients showed better tolerance and results to 5% SAP as compared to 5% benzoyl peroxide. (Klock et al, 2005).
Examples: Vitamin C serum 22 by serumtologie $35.00 (used to be $85) 22% SAP + 5% HA (yet to try)
2. Ascorbyl Palmitate – a Non-acidic form of Vit C by combining palmitic acid (fatty acid). Since it is fat-soluble, it has a higher rate of penetration than other water-soluble forms of Vit C across our (lipid membranes) skin. Works particularly well with Vitamin A and E and is regarded as being less irritating to the skin.
Example: M.D Perricone Vitamin C Ester 15 ($130) (used in the past)⠀
3. Ethylated L-ascorbic Acid – a highly concentrated and stable form of Vit C. Usually packed together with other antioxidants to give an enhanced barrier function, treats hyperpigmentation while remaining active in the skin and preventing oxidation.
Example: NIOD | Ethylated L-Ascorbic Acid 30% Network and Hylamide C25 Booster (used in the past). Deciem is a fan of this so you do not need to worry about PH since they are water-free formulas. Both are recommended to use at night for slow release delivery and probably because they are used with other powerful brightening technologies.
THIS IS THE ONE TO WATCH!
Tetrahexyldecyl Ascorbate – A fat-soluble form of Vit C so it has a higher rate of penetration. Works well with other forms of Vit C and retinol for enhanced benefits. It is also less irritating than other forms of Vit C. A 2006 study concluded that it can suppress UV-induced skin pigmentation at a 3% dose. (Ochiai, 2006)
I am seeing a great deal of both clinical and retail premium brands incorporate this ingredient. I believe that in the coming years, we will see more and more research emerging and greater usage of this ingredient in combination with others.
Examples: Medik8 C-Tetra (63 pounds), Sunday Riley CEO, Skin better Science Overnight Treatment (yet to try), Odacite, Sarah Chapman, Zelens Vitamin C
Magnesium Ascorbyl Phosphate (MAP) – A water-soluble form of Vit C and often regarded as one of the most stable forms. It has a hydrating effect on the skin, shown to decrease transepidermal water loss and reduce skin hyperpigmentation significantly in some patients. (Kameyama et al, 1996). It's suitable for sensitive skin.
Examples: Powder- Dermalogica MAP-15 Regenerator (Used in the past)
For those of you that want to get to know more, I really recommend reading Vit C in Dermatology (Telang 2003) who wrote a paper on the ingredient for the Indian Dermatol. You can easily find it on google. It's a great paper and I found it very easy to read and really helped me answer some of my initial questions on Vit C. Always a student 🤓
Overall the jury on these derivatives is still out as the more I read about them, the more studies vary on their effectiveness – whether they do convert to LAA in the skin and how effective they are (I guess more research will emerge on these over time).
My current fav Vit C product: Vitabrid C12 ⠀
My past favs include:⠀
❤️Philosophy Turbo Booster C Powder
💛Skinceuticals C E Furelic
💚IS Clinical Pro-Heal Serum Advance+⠀
💙Dr Sebagh Powder Cream
💜Obagi 20 plus VE & 10 plus VE.⠀
⠀
Tips for storing Vit C:⠀
1. Refrigerate helps prevent oxidisation
2. Wrap in foil to block light⠀
3. Opt for airless pumps if you can ⠀
⠀
Tips for choosing a good Vitamin C:⠀
1. Look for 10-20% LAA with 👍🏻 reviews for efficacy on the skin.
2. Look for high % Vit C derivatives to avoid LAA issues of stability⠀
3. Look for more than 20% for silicone-based formulas for great efficacy⠀
⠀
My Bonus Brightening Tip:
Use Vit C as part of your night routine for extra skin brightening effects! As when it is used in the day, it is constantly being depleted/oxidised as it is exposed to water/air/free radicals, other environmental elements and unable to work its true magic at an optimal level.
If all else fails, you can always DIY! A great and easy recipe I recommend is by the talented @labmuffinbeautyscience ♥️