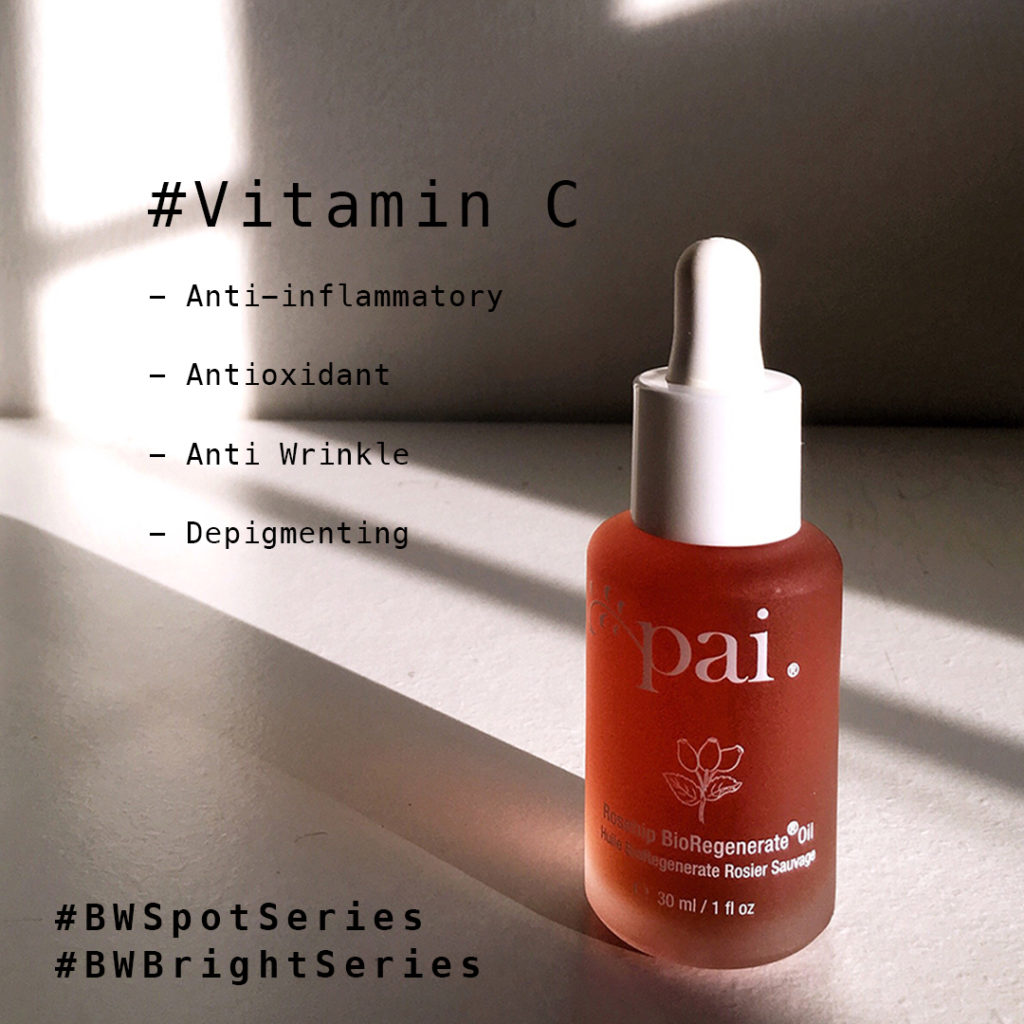 I am adding Vitamin C here as part of my #BWSpotSeries and #BWBrightSeries. This is because Vitamin C is a multi-beneficial ingredient that has really helped me in reducing spots, fading my dark spots and acne scarring.⠀
SKIN BENEFITS:⠀
Antioxidant – Protects the skin from free radicals, neutralising them to prevent oxidative stress. Vit C alone can provide photoprotection (not recommended) and works best with Vit E and Ferulic Acid. A combination of 0.5% ferulic acid (a potent antioxidant of plant origin) with 15% Vit C and 1% Vit E can increase the efficacy of Vit C eight-fold 😲 This is the reason why Skinceuticals is regarded as a gem in the history of Vitamin C serums (Farris, 2009).
Anti-Inflammatory – which helps with acne and rosacea, accelerating wound healing and prevent post-inflammatory hyperpigmentation.⠀
Anti-Inflammatory – which helps with acne and rosacea, accelerating wound healing and prevent post-inflammatory hyperpigmentation.⠀
Known to stimulate collagen and elastin production – reduces the appearance of wrinkles, fine lines, dark circles thus maintaining skin elasticity and firmness⠀
Depigmenting – by decreasing melanin formation (inhibits tyrosinase – the enzyme that causes melanin formation)
As a skin brightener: it exfoliates, inhibits melanin production and increases the levels of 2 antioxidants (Glutathione & Vit E) that give the skin a lighter brighter complexion. (Johnston et al, 1993) (Fujiwara, 2004)
Yep, it's pretty awesome and really deserves the #beamlight!
The only problem is that there are many Vit C skincare options available in the market and it can be perplexing when choosing a Vit C product that works for you.⠀
Natural VS Synthetic
There are two types of Vit C – natural (coming from food sources such as fruits and vegetables) & synthetic (mainly from corn syrup or acetone/labs). Oils like Sea buckthorn oil, rosehip oil, black currant seed oil, carrot oil and marula oil all have fruits/seeds/vegetables rich in Vit C, also contain phytonutrients, flavonoids and enzymes.⠀The Vit C in their fruits does not translate into Vit C in the oil and most face oils with Vit C may include these amazing oils above but usually, with additional oil-soluble Vit C added.
L-Ascorbic Acid (LAA) is probably the most often used Vit C in skincare. It's the purest bioavailable form. There have been many studies on LAA over the years and it's proven to increase collagen synthesis, provide photoprotection, treat hyperpigmentation and even help with acne. Studies also continue to show how LAA is superior in skin benefits to other Vit C derivatives and is seen as the gold standard in most skincare brands.⠀
STUDIES:⠀
Like many of you, I also started to look for LAA in concentrations between 15-20% for prevention, protection and repair. Yet studies have shown LAA to be effective in dosages as low as 5% and at pH of 5.5 to promote collagen synthesis. In the study, all age groups showed improvement with minimal side effects. Best results were observed in the 20-35 age group. (Crisan et al, 2015). That's great but I guess I would still prefer to buy a product where I felt I was getting the most benefit 😊⠀
⠀
Another study compared 5% ascorbic acid VS 4% hydroquinone (HQ) in skin lightening. Side-effects were highly present with HQ (68.7%) VS with ascorbic acid (6.2%). Although, HQ showed a much better response, using vitamin C avoided the possible side-effects of HQ. (LE Espinal-Perez, 2004). ⠀
⠀
Studies also show that LAA is the most effective at a pH level of 3.5 or less and at 20% concentration. At concentrations above 20% will not increase absorption and may cause some irritation. (Pinnell et al, 2001). ⠀
⠀
Cons of LAA:⠀
Extremely unstable and affected by light, heat, PH, air and more.
Prone to oxidation. When using LAA you will also need to leave the product on for a few minutes before applying the next product as it might alter the pH level and lead to it oxidising before the LAA has even a chance to be absorbed.
May cause skin dryness, irritation and increased sensitivity since LAA is effective at a PH that is lower than the normal PH of the skin. In addition to being PH sensitive, it also has compatibility issues with other ingredients that might prevent it from being delivered effectively into the skin.
MY EXPERIENCE:
I have used Vit C on and off over many years and I have to admit one of my biggest disappointments was Ole Henriksen which I purchased 9 years ago. I couldn't understand why every editor would rave about it in magazines because it had no effect on me (They may have reformulated it since). I mainly use Vitamin C for brightening and even skin tone.
What do I look out for when buying LAA:
Good packaging – airtight and dark bottles (pumps is preferred). Unfortunately, so many of them are in dropper bottles.
I also look for concentrations – between 10-30% Obagi 10% VE being my 10% favourite and others depending on the other ingredients for example if in Silicon bases as some of the LAA might not readily permeate the skin so working with higher percentages would be better.
Added Ferulic & Vitamin E in a bonus study show A combination of 0.5% ferulic acid (a potent antioxidant of plant origin) with 15% Vit. C and 1% Vit. E can increase the efficacy of Vit. C eight-fold ( Farris PK, 2009)
Powders – I am enjoying powders at the moment, VitabridC12 in particular because they retain their potency, no funny textures, no strange smells and extremely flexible. They can be mixed into other serums and creams. Vitabrid really works well with many creams and serums that I have tried.
PH level – I always like to make sure that if I have a liquid serum, the PH is <3.5 and it hasn't turned into a strange colour (yellow/orange). I noticed some brands are actually making their vitamin C products orange in colour so that it misleads users into thinking that the product is fine/not oxidized. I like to avoid these brands. If you are using a highly acidic PH toner you might be ok in applying the Vitamin C straight after but I usually wait a few moments in between to let each product do its work before on to the next step.
I prefer to use LAA in the evenings so that it has the most optimal chance to be absorbed into the lower layer on my skin without being depleted during the day when it's busy fighting free radicals. Instead, it can focus on working its magic on the hyperpigmented areas of my skin.
BONUS: My top secret!
I have been mixing LAA with Alpha Arbutin and noticed the best brightening effects ever!! (Alpha Arbutin on its own was a complete dud for me).
L Ascorbic Acid Favs:
❤️ Vitabrid C 12
❤️ Obagi VE 10% & Obagi C 20%
❤️ Pro-Heal IS CLINICAL
Value buys:
❤️ PC Booster 15%, PH 3 (Great Value) – It has already given me a good impression in my early sampling. @lathertolashes has just reviewed this one (thumbs up).
❤️ CORSX 20.5%, PH 2-3 (Great Value) – it is infused with 72% black chokeberry, an ingredient that works to stabilize the Vitamin C and ensure that your skin is smooth and hydrated. @porepatrol @skinmusings@maskaddict have all recently reviewed this kbeauty.
Just to let you know, I have my eyes on C scape high potency night booster and a Vitamin C derivative alternative from SkinBetter Science.