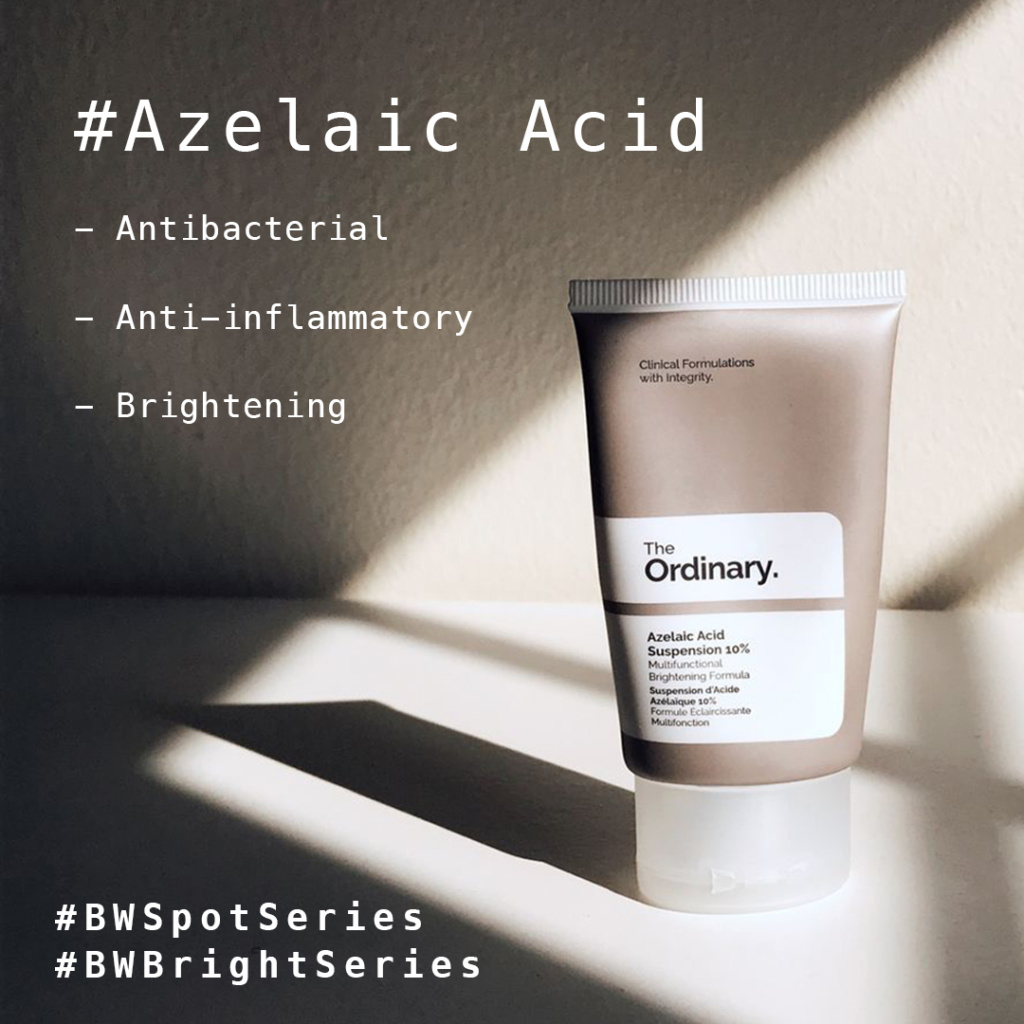 As part of my #DeclutterDecember , I realised that I had purchased a huge haul from Deciem in February this year in the hope of trying a few actives in different combinations to tackle pigmentation, dark spots and blemishes. One product which I have been hoping to try and never got round to doing so was the Azelaic Acid so I have been using for the past 1-2 weeks.⠀
Here comes the review #BWIngredient #BWSpotSeries #BWBrightSeries
What is AA:⠀
In Ayurveda, wheat, barley, and rye have been used for centuries for treating hyperpigmentation and it all boils down to this key multipurpose ingredient and its inhibiting effects on tyrosinase, the enzyme behind melanin formation. AA is a saturated dicarboxylic acid (1,7-heptane dicarboxylic acid).⠀
Skin Benefits:⠀
✔️ Antibacterial – inhibiting the growth of p.acnes ⠀
✔️ Anti-inflammatory⠀
✔️ Keratolytic – regulates the process of keratinisation to prevent buildup of dead skin cells and clogging of pores⠀
✔️ Anti-comedogenic⠀
✔️ Brightens dark spots by reducing melanin production (inhibiting tyrosinase production and growth of abnormal melanocytes)⠀
Studies: ⠀
✏️ For treating moderate facial acne, 15% Azelaic acid FOAM has shown effectiveness. (Hoffman, 2017) (I like the idea of a foam product in a recent study)⠀
✏️ 20% Azelaic acid cream is comparable to 0.5% tretinoin in reducing the number of comedones, better tolerated by the skin and even has fewer side effects than topical retinoid. (Katsambas 1989)⠀
✏️ Topical 20% azelaic acid is more effective than 2% hydroquinone. Azelaic acid + tretinoin increased skin lightening after three months than if azelaic acid is used alone. (Breathnach, 1996)⠀
✏️ Use of 15% azelaic acid gel demonstrated significant superiority over using 0.75% metronidazole gel in improving principal signs of rosacea (inflammatory lesions and erythema). (Elewski, 2003)⠀
Caution: ⠀
👎🏽 May cause burning, stinging or tingling sensations on the skin
Studies: 20% azelaic acid seemed to be well tolerated with no side effects, but may cause irritation, burning sensation, mild erythema, scaling and pruritus that subsided after 2 to 4 weeks. (Fitton and Goa, 1991)
👎🏽 Long-term use of any skin lightening product may increase the risk of sunburn, so always use sunscreen!
How have I been using it?
👉🏻 As a spot/blemish treatment alone and with retinol spot treat.
👉🏻 All over the face for brightening and blemish control (avoiding eye area)
👉🏻 On dark spots and areas of pigmentation.
My Experience:
Amount: Firstly, I am tremendously surprised at how quickly this 30ml tube has disappeared just 2 weeks and it's almost gone. I feel the tube was half empty when I received it so I am actually re-ordering this one. Just as I was seeing some interesting results it emptied out on me.
Texture: Thick and creamy and dries matte with a powder-like finish
Application: Used all over the face avoiding eye area.
Results:
The one fab thing about this product is that it really helps calm my blemishes (I had 3 last week all hormonal and part of the usual monthly saga) and 'pouff' 2 of them were half the size within 1 day and took 4-5 days to really subside. As for the dark pigmentation scars left behind, they are generally fading a lot faster than usual. I also felt using AA followed by Retinoid 2% worked well together as a combo spot treatment.
Overall, the brightening results I have seen with Azelaic Acid have been extremely positive in just the two short weeks of usage which is why I quickly re-ordered. .
Bottom line: No irritation, no peeling, no sensitivity, my skin looking a lot brighter and scars fading 20-30% faster than usual.
I love the short-term results and I am really making the last bits left count as I re-order this. Very positive results so far.
Cons: I have touched my face and eyes a few times in the evening with Azelaic Acid on and it really does itch and burn your eyes so try to keep it far away as possible from the orbital area.