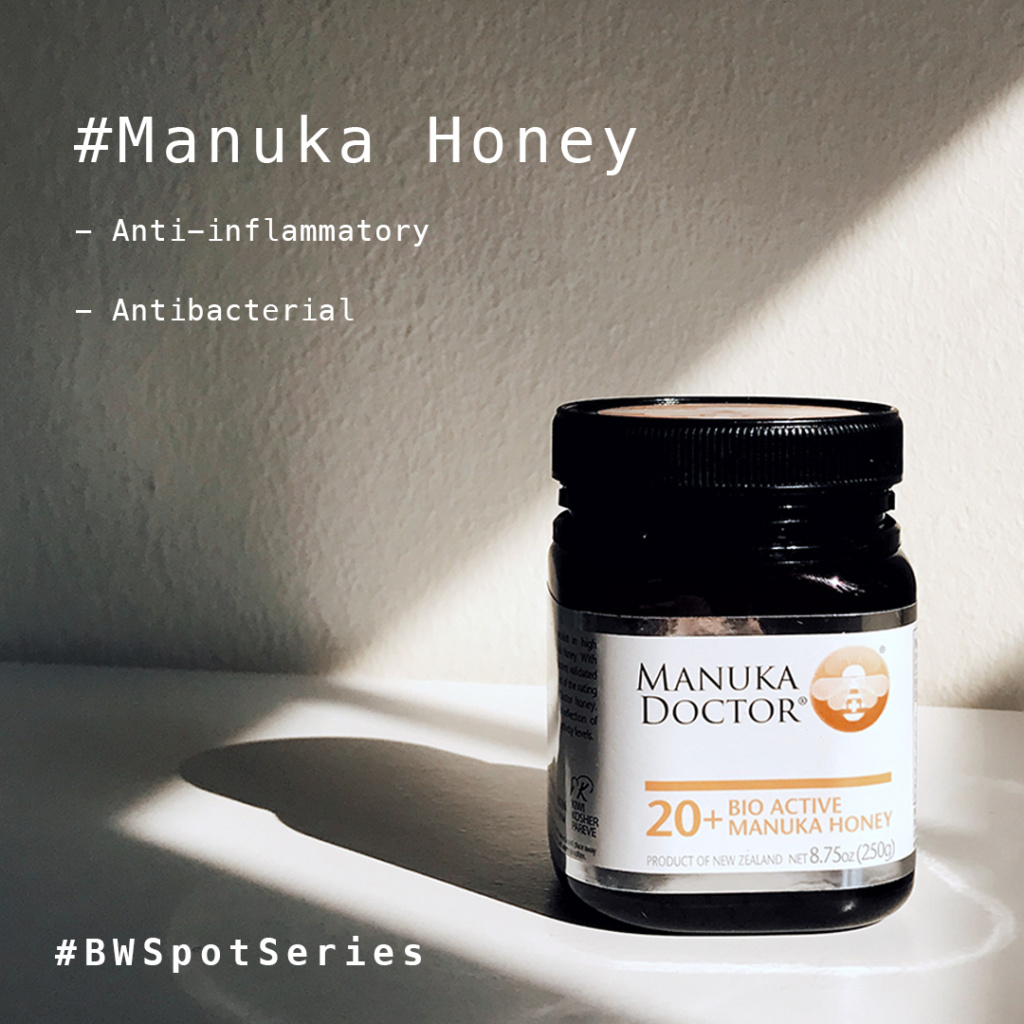 Honey has been used throughout history, culture and civilizations as part of traditional medicine and can be traced back thousands of years ago in Ayurvedic culture, Egyptian civilizations and more. It has an inhibitory effect on around 60 species of bacteria, some species of fungi and viruses. (Eteraf-Oskouei, 2013) and it is really no surprise we are seeing it pop up more in modern medicine and skincare. ❤️ #BWIngredients #BWSpotSeries⠀
.⠀
Components of Manuka honey:⠀
🔎 Almost all natural honey contains flavonoids, phenolic acids, ascorbic acid, tocopherols, superoxide dismutase (SOD), reduced glutathione (GSH) and peptides. Most of those compound work together to provide a synergistic antioxidant effect (Eteraf-Oskouei, 2013).⠀
🔎 However, Manuka Honey is the only 100% natural food that has a strong antibacterial and antiviral activity due to the presence of Methylglyoxal. ⠀
🔎 Methylglyoxal (MG) – A compound that occurs naturally when glucose is made available to a living cell and varies from 30-1000mg/kg. However, any Manuka Honey MGO 400+ and above is proven to kill a large number of powerful bacteria and viruses immune to other classic antibiotics. ⠀
.⠀
Research shows that the higher the MGO level, the stronger the antibacterial level in Manuka Honey. A UMF 15+ usually has MGO 250 (strong antibacterial properties), which is why I look for UMF 16+ for the face. (Manukaonline.com is a great place for resources if you fancy learning more). So the higher the UMF rating, the more effective its healing and medicinal properties (plus the pricer it gets).⠀
.⠀
Benefits:⠀
✔️ Antibacterial ⠀
✔️ Anti-inflammatory – heals acne, fights off skin irritating microbes, soothes irritated skin, reduces redness, treats eczema, rosacea, psoriasis⠀
✔️ Wound healing⠀
✔️ Moisturising – a natural humectant⠀
✔️ Lightens & brighten the skin (due to its high hydrogen peroxide content which lightens the skin) ⠀
✔️ Low pH level = Balances the skin's PH (manuka honey has a ph of around 4.5) + antibacterial⠀
.⠀
Studies:⠀
✏️ Manuka honey has been shown to inhibit the growth of Propionibacterium acnes, acne-causing bacteria (Wu, 2011).
✏️Manuka honey has an important role in modulating the inflammatory response associated with wound healing, through a pathway-specific effect. The phenolic content of honey correlates with its effectiveness (Tomblin et al, 2014).
✏️ The low pH level of honey (pH f 3.2 – 4.5 – low enough to inhibit the growth of bacterias). Even when the hydrogen peroxide activity is locked. Maybe caused by the low pH level of honey (pH f 3.2 – 4.5 – low enough to inhibit the growth of bacterias) (Mandal and Mandal, 2011).
.
Caution
Avoid if you are allergic to bees due to possible allergic side effects
.
How I like to use it:
👍🏻 I usually use Manuka Honey when I have angry large cysts, dry, flaky skin or the spot area is really dry and flaking from heavy use of acids/sulfur or BP.
👍🏻 I also like to apply a layer of manuka honey after an exfoliating mask. For example, @caudalie Glycolic mask, @andalounaturals Pumpkin Enzyme (which my friend has "borrowed" 😉) to treat and soothe the skin.
👍🏻 I like to mix a spoon of manuka honey into clay/charcoal powders with a little hydration essence. This gives my skin this amazing soft glow, keeps my pores clear and calms the hormonal spots.
👍🏻 I like to make my own ayurvedic blends occasionally with turmeric powder or oils.
👍🏻 Or I will use manuka honey to treat spots when my spot is particularly dry and flaky as the honey usually helps bring some moisture and comfort to my skin. So after I wash it off, I can apply my makeup easily.
.
I will post my mask combo of this next.