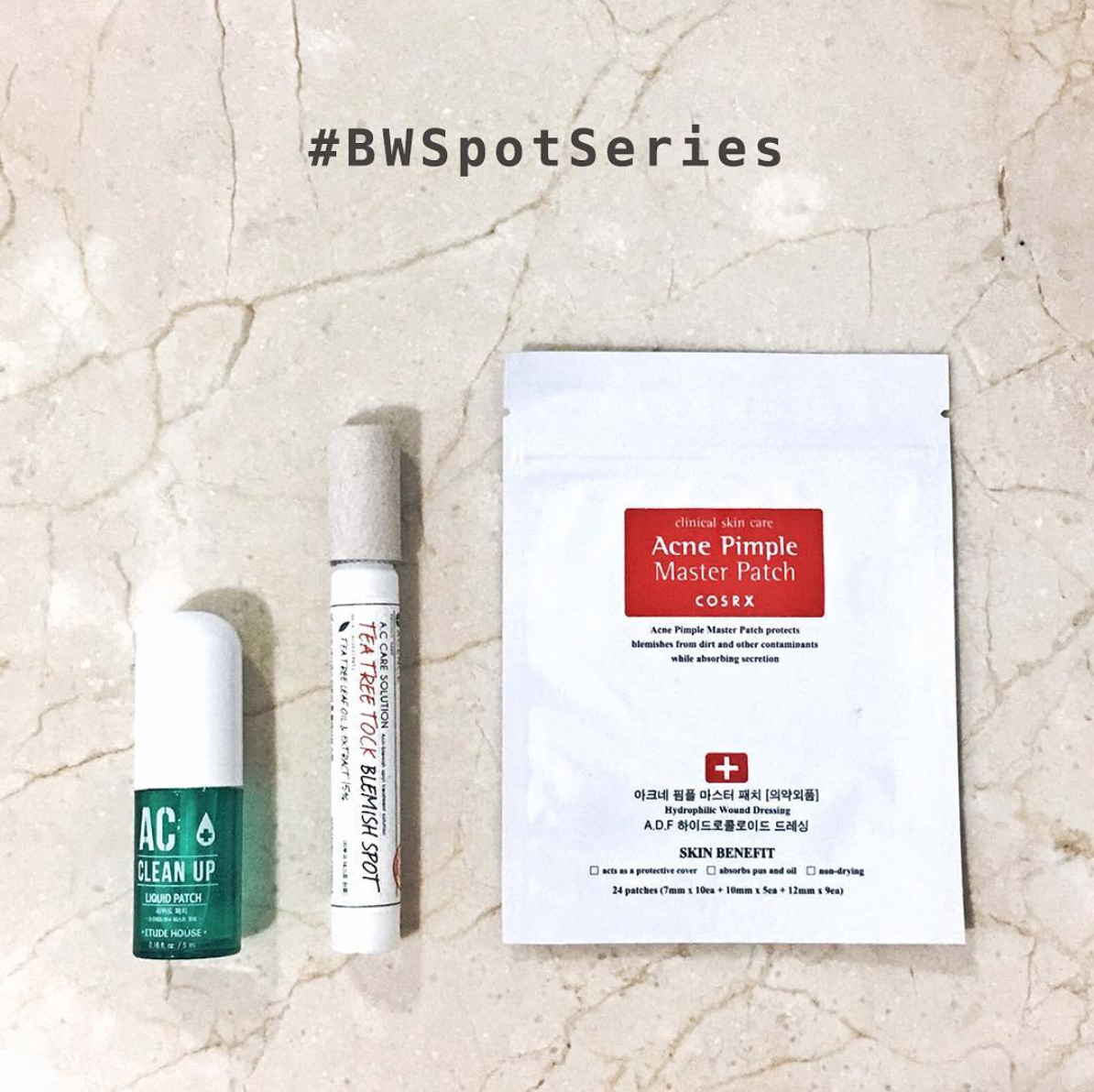 I haven't done anything on my #bwspotseries for a while now and one of the reasons why I created this series is because there is such a wealth of products out there claiming to treat blemishes and yet we still struggle on a day to day basis dealing with blemishes and the different forms they take. As part of #texturetuesday, I thought I would take a look at acne problem solvers which take on a film-forming/ patches approach to healing blemishes. Funny enough they all happen to be K-Beauty inventions. The first I picked up during a trip to Seoul Etude House, and the other two online.
.
✨The first two are acne treatments that form a thin film over the skin and the third one is a clear hydrocolloid patch that sticks to your skin absorbing sebum from a pimple, allowing for quicker healing.
.
✨I bought them for night travels, overnight flights and at home evening use, to see if they would perform faster than the usual spot treatment.
.
1️⃣First up:
@mizon_official Acene Tea Tree Tock Blemish Spots (15ml). @peachandlillywith key ingredients like 15% Tea Tree Oil, Salicylic Acid, Witch-hazel.
.
This creates a thin film that almost reminds me of the thin film glue creates when bits are leftover on your skin. When I first applied this, I felt a stinging burn and I thought "oooo" This is gonna kill that spot in a jiffy… moments later, the whole film rolled up into a ball, peeling off and just dropped onto the floor. Yet that stinging sensation remained taking a while to subside. The second time no peeling what so ever just a thin film peeling a little from the edges but staying put.
.
💬Thoughts: Personally, I found it effective at creating a temporary film but throughout the day this began to peel and applying makeup over it gets very tricky. At night it also rubbed off easily, it did seem to calm moderate to small blemishes/whitehead forming but unfortunately, this did nothing for my big cystic angry acne days. It did, however, work really well on my naughty days when I decide to perform little self-extractions (aiding the healing) 16.9$.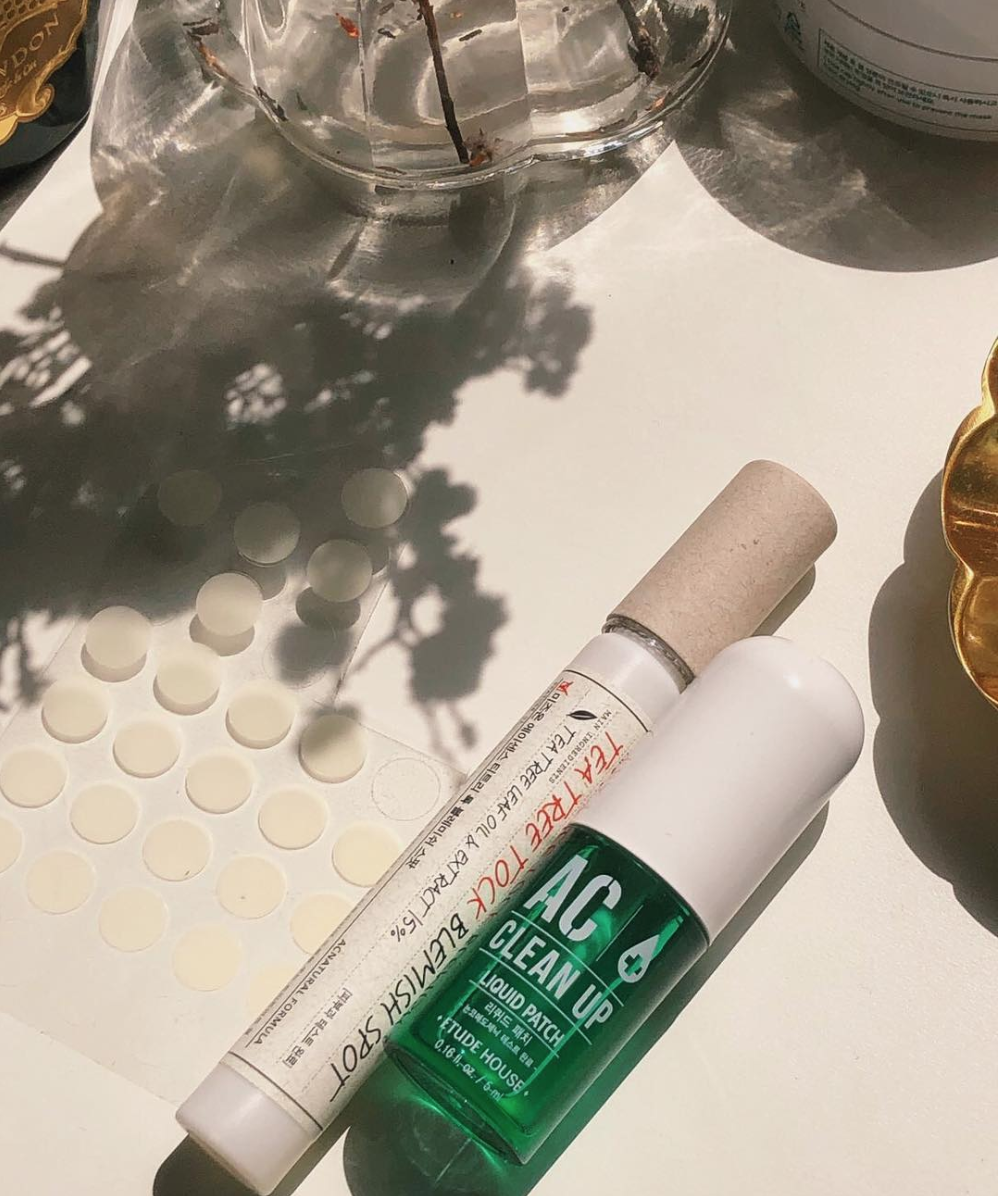 2️⃣Next up is the @etudehouseofficial AC Clean Up liquid patch (5ml)
.
The key ingredients here are:
• Salicylic acid
• Tea tree oil
• Madecassoside
.
The directions are to apply a thin layer with the tip and cover up with makeup. Initially, I was super excited with this, and for the first 15 minutes of application, it looked absolutely fabulous. When I applied makeup over it, my spots looked barely visible! However over the next hour as I moved my face with everyday expressions it began to peel, and now instead of looking like I had a blemish, I looked as though I had peeling/flaking skin. So this, unfortunately, didn't work for me. I am still going to give it another shot for few months to see if anything comes of it but for now- Verdict 2/5 13$
.
.
@Cosrx Acne patches
.
These are truly nifty little patches and I used these a few times whilst traveling especially on overnight flights. These don't really contain any acne-fighting actives and are primarily about creating a moist environment for faster healing, similar to the scar healing hydrocolloid patches you can buy. They also stop you from touching your face and your spot, which used to be a really bad habit of mine. It costs about $5.90 and needs to be used on clean, dry skin (no serums or moisturizers in between otherwise the patch will simply not stay put).
.
Ingredients:
Cellulose Gum, Styrene Isoprene Styrene Block Copolymer, Polyisobutylene, Petroleum Resin, Polyurethane Film, Liquid Paraffin, Tetrakis Methane.
Where I found this to be genius, was when you have perhaps extracted a spot, have a whitehead formed, accidentally picked your scab or you see a small potential spot appear on the horizon. They worked well overnight in making sure I wasn't aggravating my blemish during my sleep. But this again, unfortunately, did not work on my angry red hormonal spot days. 3.8/5…Oh, the and patches in the picture here are not from COSRX (I gave those ones to my niece)- there are from Hatherine by Elizabeth and seriously these buggers just stay put. I even washed my face and they refused to budge.
.
Let me know if you have any questions?