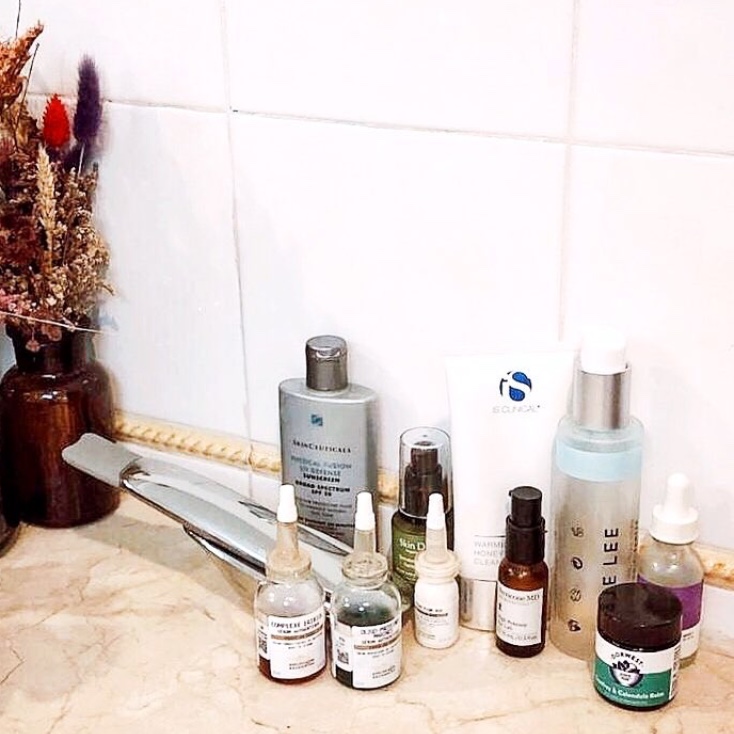 I haven't done a routine post in a while so here is this mornings routine.

▪️Cleansing
@touchebeauty__ – around the chin to remove small whiteheads (worried if they are not dealt with these could become full-blown spots especially since the humidity is picking up).
@indie_lee brightening cleanser – this smells like a candy store, just the perfect morning cleanse to awaken the senses. Leaves my skin feeling soft supple, no dryness, no irritation just beautifully cleansed.
@isclinical Honey cleanser- You all know I'm a huge fan of honey and its amazing properties and this cleanser really does not disappoint. It is a winter skin's dream also a perfect companion to the IS Clinical Cleansing Complex in a double cleanse routine.

▪️Treat
@Biologie Recherche Oligo-Proteins Marines- This brown algae serum is wonderful all over the face including under the eyes, really conditioning the skin, moisturizing, brightening as well as taking the edge off dark circles. A real treat for dry winter skins.
@MD Perricone Eye Serum- Vitamin C serum to brighten the eye area.
@Biologie Recherche Complexe Iribiol around the cheeks and visible pores to prevent congestion
@deciem Subq Anti- Age – A whole host of peptides and technologies targeting hydration and aging, applied around the nasolabial folds.
@biologique_recherche_uk around the mouth area, early days using this one and I am not confident an 8ml bottle will deliver the results I am looking for.
@skindewi Balancing Fluid – This is pretty much a moisturizing fluid version of Sunday Riley UFO works excellently in balancing the skin sebum and keeping breakouts at bay. If you are layering a few skincare underneath then this should be enough moisture for winter otherwise you may want to top it up. Such a hidden gem perfect for breakout-prone skins.
@dorwest Comfrey and Calendula balm on fingernails and few dry patches on the neck.


▪️SPF
@skinceuticals_sg Physical Fusion 100% mineral SPF tinted. Unfortunately, this is not a fav firstly the grainy texture is not ideal, it is runny and the finish is greasy looking. One of the few Skinceutical fails for me.

Talking to @wearebats last night I have to be honest I love a few ingredients in these individual BR serums but it is terribly frustrating to pick up serums where the focus is just one or two ingredients, I just don't have that kind of time to be layering multiple serums and then there is always the issue of pilling. On the plus side, Biologique Recherche keeps the texture of its serum very light and watery allowing you to build up multiple layers (yet this also means these serums have high water vs the good stuff ratio).


How do you all feel about these BR serums?