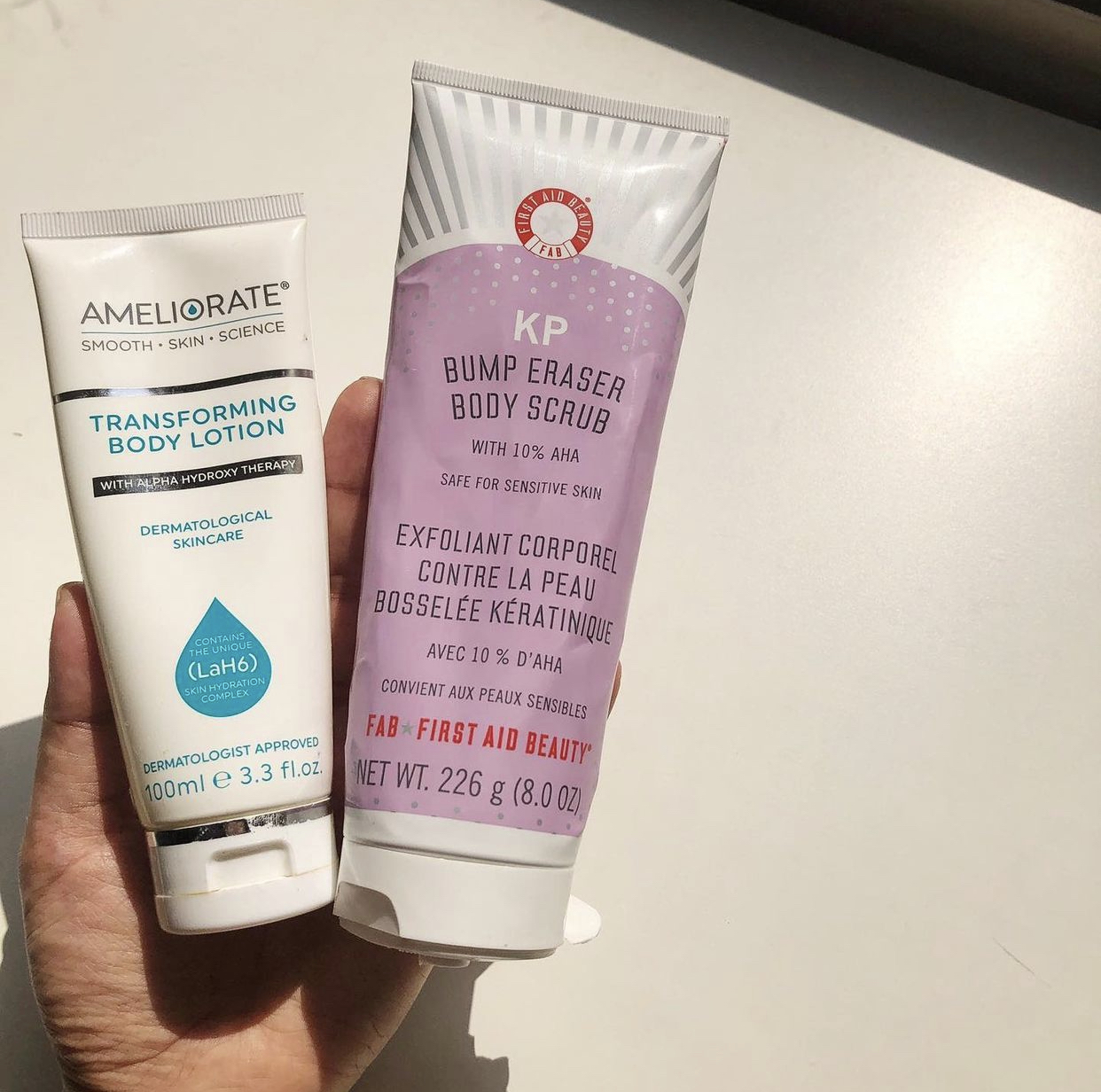 Being more homebound in 2020 has definitely meant a lot more small indulgent bath and body pampering moments. Just slower showers, longer baths and silky body oils (ooooh I will be covering an amazing body oil but more on that tomorrow). For today, here is a solid pairing that has kept my bumpy skin smooth and are perfect for quick get ready routines too.
1. In shower exfoliant
2. Out of shower exfoliating body cream
Noting that bumpy skin or chicken skin (also known as Keratosis Pilaris) occurs when there is a build up of shedding skin cells or more specifically keratin (a protein found in hair and skin) that blocks the opening of the hair follicles and forms bumps.
**KP Bump Eraser Body Scrub With 10% AHA by @firstaidbeauty **
This is a fantastic body scrub combining both chemical (Lactic and Glycolic Acids) and physical (Pumice buffing beads which I absolutely love) exfoliation to slough off dry bits and reveal the smoothest of skin.
*** @ameliorateskin transforming body lotion (200ml)***
I am not a huge fan of high % lactic acid leave on treatments as I do find they can make my skin feel "itchy" yet this lightweight body lotion really packs a punch in treating Keratosis Pilaris as it is both an exfoliator and moisturiser. Lactic Acid works to exfoliate and hydrate as Almond Oil works to nourish, smooth and soften the skin.
The combination of these really do leave your skin looking and feeling gloriously smooth. Tomorrow I will run through two more body smoothing faves!
Anyone else tried these?