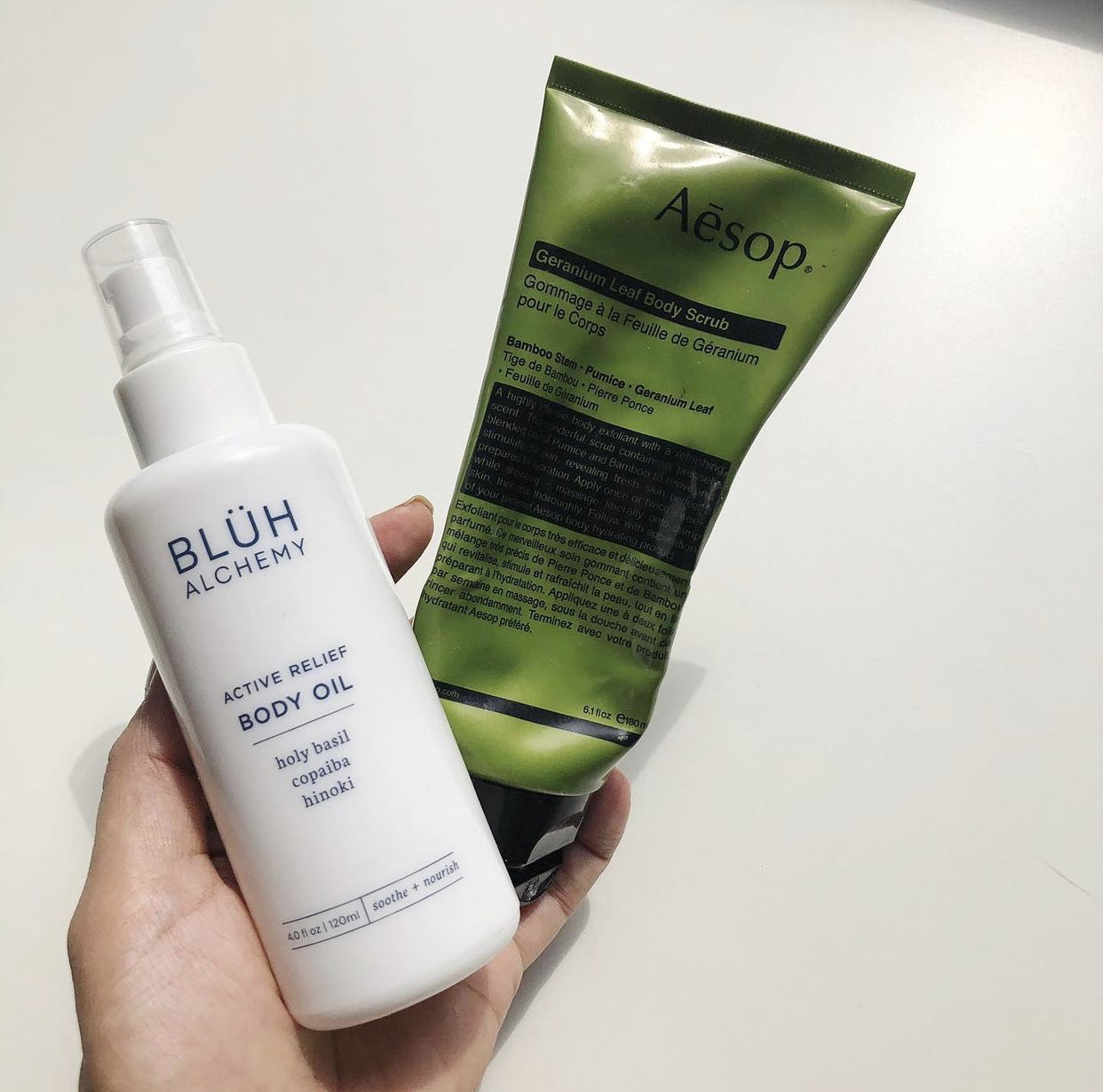 So I talked about some of my favourite body exfoliators yesterday, here are another two incredibly divine and luscious body smoothing products. A scrub and body oil which not only make for an awesome zen spa experience, they also leave the skin feeling like silk – just smooth and nourished. The scrub has been a regular purchase and the body oil is a recent @theboxwalla discovery that literally blew me away. It has been in my Sunday bathing ritual from the moment it arrived.
@aesopskincare Geranium Leaf body scrub is a fine physical exfoliant scrub that includes Bamboo Stem & Pumice with purifying Mandarin Orange and Geranium Leaf Oil. The scrub works to smooth the skin, sloughing away the outer shedding layers and dry flaky skin without over stripping or feeling too scratchy and harsh on the skin.
@bluh.alchemy Active Relief Body Oil is just the most elegant Hinoki Oil scented body oil. Packed with nourishing fatty acids, phytoceramides, antioxidants, anti-inflammatories and botanicals. This Body Oil is literally the equivalent of checking yourself into a Baliness Spa. It absorbs quickly into the skin as it relieves dryness leaving your skin just silky smooth. Ingredients include: Copaiba Oleoresin, Arnica Holy Basil and Hinoki Oil (which has a beautiful earthy scent that helps promote a sense of calm relaxation amongst the whirlwind times). For most facial treatment products I like to avoid fragrance where I can and yet when it comes to a pampering bathing ritual, a gorgeous scented body oil can really be a nice way of working scent into your skin routine.
So what's it gonna be yesterday's smooth skin duo or today's?