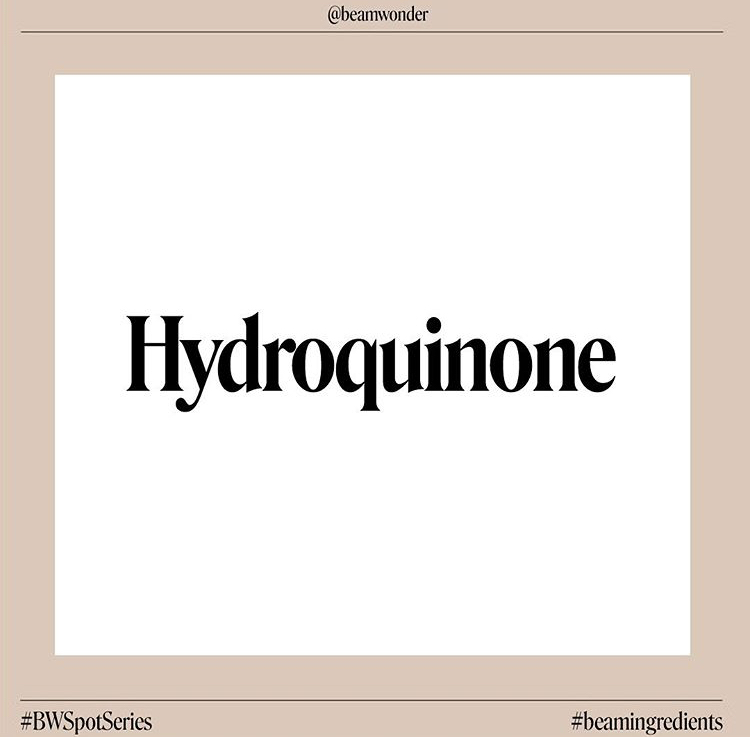 Let's talk about one of the most controversial hyperpigmentation ingredients out there!⁠⠀
⠀
As you all know hyperpigmentation has been a huge skin concern of mine since………. foreverrrrrrrrr. Issues including patchy discolourations, dark spots (left behind from acne marks), melasma (from my pregnancy), freckles (on my nose) and currently rebound pigmentation issues mostly ignited by pollution and inadequate SPF coverage (or crappy SPFs). ⁠⠀ .
Over the last 2 years, I have been experimenting with a whole bunch of ingredients to help prevent some of the dark spots from returning and just keeping my skin as even-toned as possible really. A journey that I have been personally documenting, journaling with you all for a while now. Yet for today I want to talk about a controversial ingredient that was almost banned in the USA in 2006 (Tse et al 2010) and banned in many countries outside of the USA (or only available by prescription). ⁠⠀
⠀
🔆Hydroquinone🔆⁠⠀ .⁠⠀
Every so often I do get a DM asking me about my thoughts on HQ so I will cover this in a two-part mini-series. ⁠⠀ .⁠⠀ .⁠⠀
1️⃣What is it?⁠⠀
Used and marketed as a "skin-lightening", depigmenting ingredient for almost 50 years ⁠⠀
2️⃣How does it work?⁠⠀ Acts as a depigmentation agent by inhibiting tyrosinase (which catalyzes the production of melanin, in other words, it inhibits the conversion of L-3,4-dihydroxyphenylalanine (L-DOPA) to melanin).⁠⠀ .⁠⠀
3️⃣Used to treat:⁠⠀
Melasma⁠⠀
Chloasma⁠⠀
Solar Lentigines⁠⠀
Freckles⁠⠀
Post Inflammatory Hyperpigmentation⁠⠀
Recommended use:⁠⠀ .⁠⠀
4️⃣Directions of use: 1-2 times a day for a maximum of 3 months (the period of use is often restricted when administered by a dermatologist to avoid side effects). ⁠⠀ .
⚠️Potential Side effects:⁠⠀
Irritation⁠⠀
Allergic Contact Dermatitis⁠⠀
Erythema⁠⠀
Inflammation⁠⠀
Xeroderma⁠⠀
Stinging⁠⠀
Ochronosis is blue-black or grey-blue discolouration; it is rare and more commonly seen in patients that use a high concentration of hydroquinone for a long period on large areas.
*Studies also suggest that hydroquinone can falsely elevate capillary glucose when measured with a Glucometer (SP Choukem 2018)

**"About 35 to 45% of the topical hydroquinone dose is absorbed systemically" and there are limited studies on pregnant and breastfeeding women. (Schwartz et al 2019).

Safety Concerns raised by the NHS (UK) against lightening creams available containing HQ (out of Prescription): Possible risks of skin-lightening creams containing hydroquinone, corticosteroids or mercury include:
*skin turning too light or too dark
*thinning of the skin
*visible blood vessels in the skin
*scarring
*kidney, liver or nerve damage
*abnormalities in a newborn baby (if used during pregnancy).

Efficacy
Shown to be effective against melasma and tackling hyperpigmentation concerns in many independent studies. Often used as benchmark when conducting studies to determine the efficacy of another depigmenting agent.

I will run through my personal thoughts on this ingredient tomorrow. Does anyone have any experiences or thoughts they would like to share?