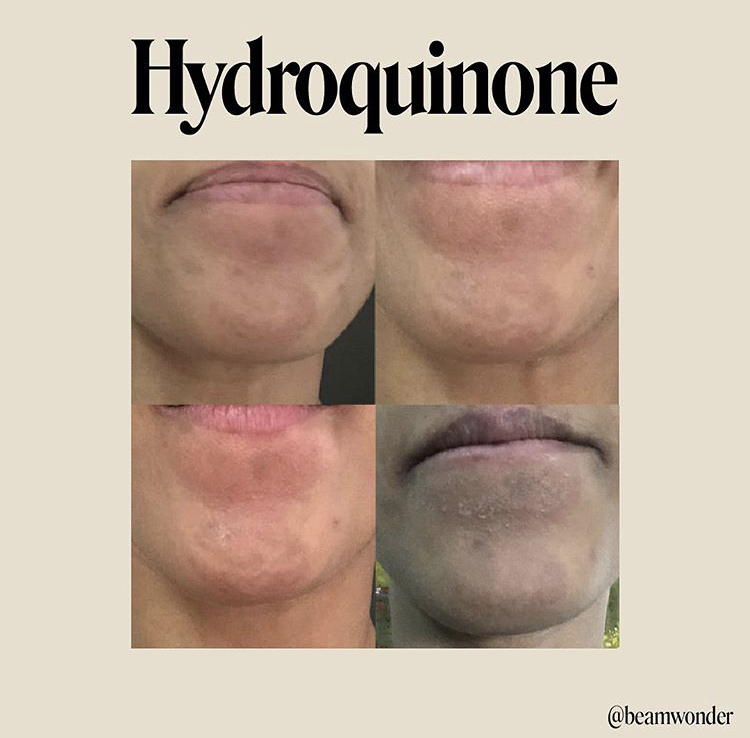 Part 2⁠⠀ .⁠⠀
Last year in February my Dermatologist suggested I try HQ to tackle a dark spot under my lip. At this point, I had been anti HQ for a very long time for a whole bunch of reasons from little results, safety concerns especially on dark skins, a short term solution rather than a sustainable one and they're so many more alternatives available now. ⁠⠀
.⁠⠀
Yet since I was already testing Hyperpigmentation treatments I decided to try it out for a period of 6weeks as one-off "one for research" experiment🙈. Well…. that's what I told my sisters anyway who were horrified at me for even considering it.⁠⠀
.⁠⠀
HOW I USED IT: I tried the HQ cream on a dark spot under my lip and immediately my skin felt red and itchy. After a few hours I started to notice a lot of redness on my skin (difficult to see because of my skin tone), my skin became sore and sensitive. After a few days, scabs, flaking and crusting began to appear. It was clear that I was having a bad reaction. So that literally put an end to my 1 day HQ trial.⁠⠀
.⁠⠀
However, due to the inflammatory response, my skin had darkened about 4 cm underneath my lower lip and now instead of 1 dark spot, I found myself with a dark patch. Note an inflammatory response can lead to an overproduction of melanin. This eventually took 7 weeks to completely disappear (and yet the dark spot remained). 
OVERALL
Some of you yesterday noted some good results, some results were minimal and some had no results. So although it is a widely prescribed treatment It still requires considerable caution if you decide to use it (This post is neither a recommendation nor a judgement on your personal decision). HQ can only be used for a short period of time and is not a guaranteed long term solution. With hyperpigmentation once your pigment cells have been activated they may lay dormant and suppressed for some time but it is actually very hard to "switch" them off completely. This means at any point in time a trigger could lead to a rebound in hyperpigmentation. Those with melasma or who have had it in the past will already know this. So the one thing to note is that if you suffer from hyperpigmentation it will require lifelong/ long term management rather than just a one off treatment period (or in addition to a one off treatment) so this is something you will need to bare in mind. .
.
As for me I have closed the lid on HQ not to be used again.