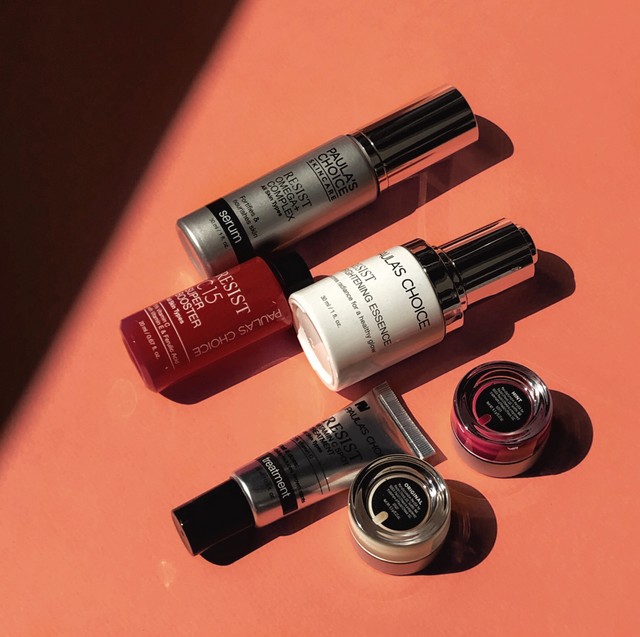 Wow, look what I found! A pic from 2018 which also happened to remind me that It might be worthwhile giving a quick review of some of these products (although I have covered them in my stories I know many of you have asked me about them which made me realise that I hadn't posted an update on my feed – so here you go). ⁠⠀
Plus looking back at the old packaging I must say I do like the new updated versions 👍

⁠⠀
(Sneak preview…. They are all so very good).⁠⠀
.⁠⠀
🍊Vitamin C-🍊⁠⠀
Resist C15 Super Booster – 15% LAA (L ascorbic acid) + potent antioxidants (Vit E and ferulic acid) and Hexanoyl Dipeptide-3 Norleucine Acetate a skin-smoothing peptide (it "helps the skin's surface shed properly plus speeds up surface renewal")- all of this targets uneven skin tone, dull complexion and provides antioxidant protection. I discussed Paula's Choice Vitamin C- L Ascorbic Acid a great deal in my stories in 2018 when I cracked open my bottle. The vitamin C smelt a bit funny (which doesn't bother me) and gave immediate visible brightening results which then unfortunately tailed off, overall I liked the texture. I do like this Vitamin C and I am glad that this comes in 20ml because at around 15ml my bottle did begin to oxidise. Paula's Choice has also kindly gifted me another bottle earlier this year which I hope to start using soon especially since it didn't break me out. ⁠⠀

✨Resist Brightening Essence✨ – ⁠⠀
A powerful brightening complex of arbutin, niacinamide, peptides, two forms of hyaluronic acid, licorice extract and various other brightening plant extracts. (Arctostaphylos Uva-Ursi Leaf Extract, Morus Alba Root Extract) as well as acetyl glucosamine, and Ascorbyl Glucoside (vitamin C derivative). Basically a whole bunch of brightening ingredients⠀⁠⠀
. This a beautifully brightening essence if you are looking for a hydrating essence with glowy results and happily they are removing the name "WHITENING" on their Asia packaging 👏🏾👏🏾👏🏾 Thank you to bot @paulaschoice @paulaschoicesg for being so proactively responsive to my post last month.