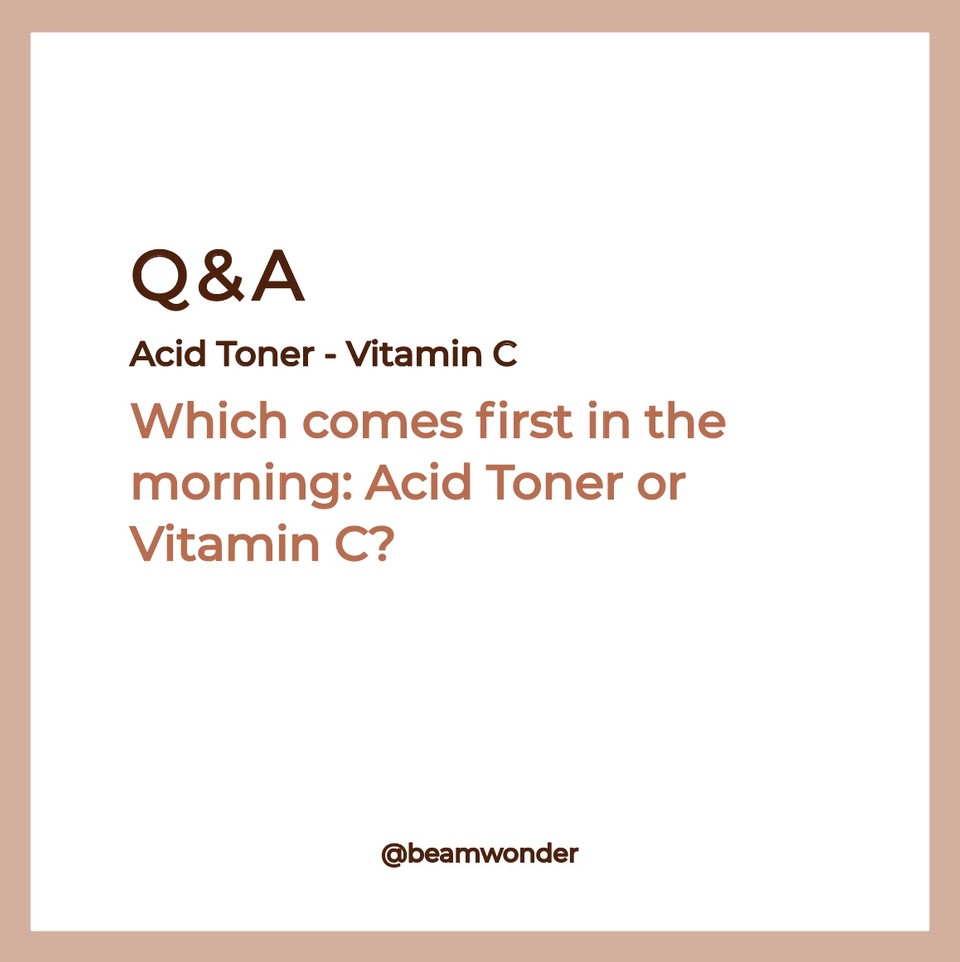 I have been asked this question a number of times from many of you in the community and from outside.

There are three things we need to pretty much address here:
▪️ PH
▪️ Type of Vitamin C
▪️ Occlusivity of the product

💫However, before we go any further by AHA toners most questions have referred to 5% AHA/ Glycolic/ Biologique Recherche toning solutions which you might be using in the morning and/or in the evening or a brand has suggested am use or twice a day use.

1️⃣One of the key factors to pay attention to when layering skincare is the PH of the product. Many active ingredients work best within PH boundaries. For example, Niacinamide has optimum solubility at around PH 6. Most AHAs need to be formulated at a minimum PH of 3.5 (for retail products to meet country regulatory requirements) and to work effectively in your routine most will be formulated around this mark 3.5-4.5. .

2️⃣Vitamin C's on the other hand and especially the most popular L Ascorbic Acid is usually formulated at PH of 2.5-3.5 or in the case of Skinceuticals CE Ferulic a PH of 2.5.

💫So what does this mean?
▪️With a product like CE Ferulic, I would want to use this first and then an AHA toner starting with the lower PH first.

▪️If your vitamin C has a higher PH or PH independent like Tetrahexyldecyl ascorbate oil serum applying the Vitamin C after the AHA toner would be better as not only are you following the PH rules but also the rule of thinnest to thickest in layering.

▪️If you are using a Vitamin C derivative or a hydrating serum with Vitamin C think Mad Hippie then again I would use the Acid Toner first and the Vitamin C serum next. Again starting with the lower PH first.

▪️Another option is to layer these two in the evening AHA/Vitamin C as they work around the same PH level and you will be able to manage any irritation over the evening or look for a combination like Tatcha 20% Vitamin C (Vitamin C Derivative) 10% Lactic Acid where the two ingredients have been combined. (I have not tried this).

💫TIPS
A good way to avoid any issues altogether, especially for the risk of irritation is to use your AHA toners in the evening and reserve Vitamin C for AM use. If you are still looking for an additional element of exfoliation action in the morning my recommendation is to opt for a gentle exfoliating cleanser, enzyme cleanser, soft scrub or light hydrating toner with mild exfoliating extracts over your vitamin C.