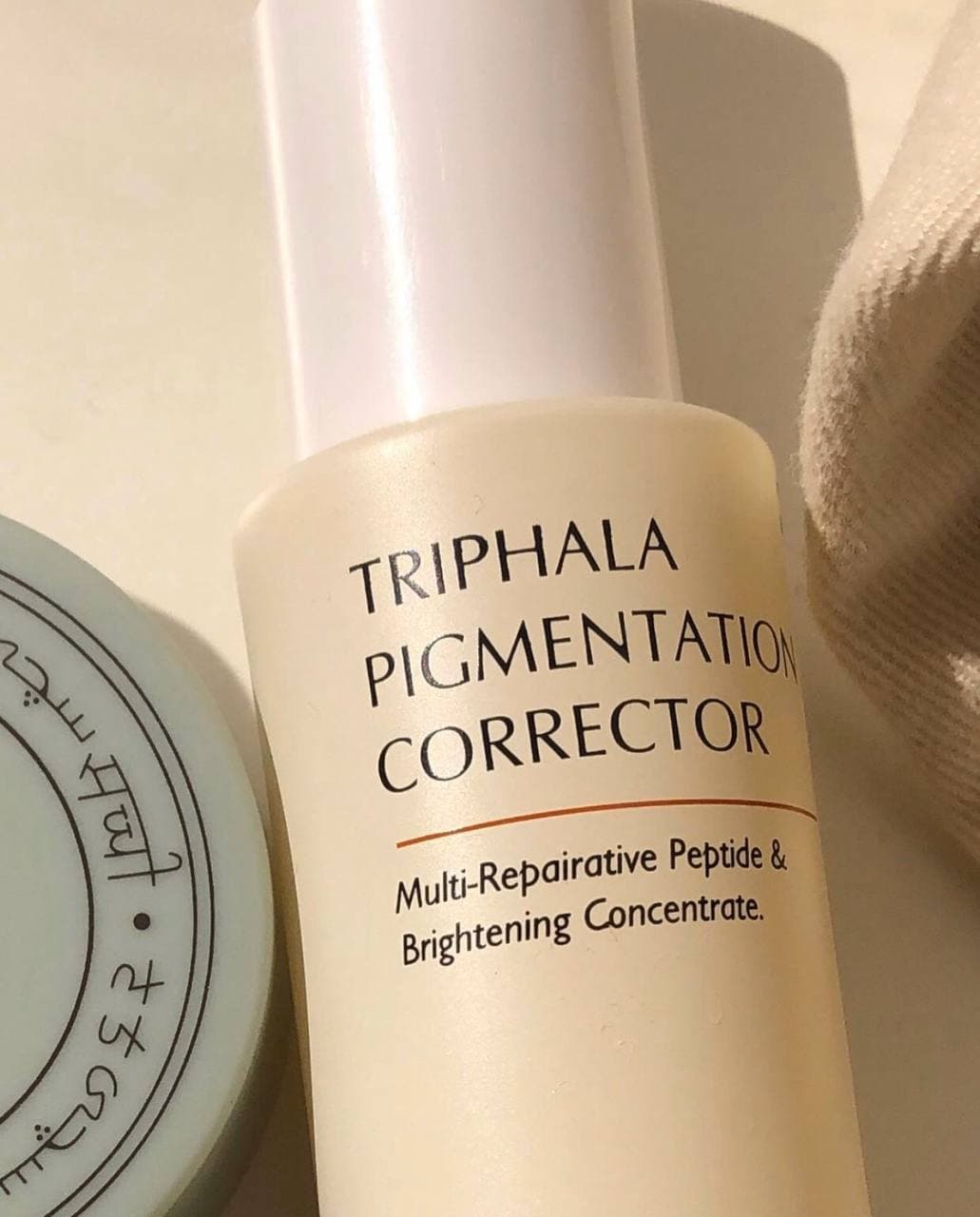 3 years in development, 70+ tests, born from my own personal problems, hyperpigmentation and dark marks from acne, here is a potent non-AHA/BHA, Retinoid or Hydroquinone formula that targets and treats stubborn hyperpigmentation, uneven skin tones and discolourations. Working as both a preventative and treatment step ✨✨⁠⠀
.⁠⠀
*****(launching very soon please follow @sachiskin and subscribe at sachiskin.com for launch details). ⁠⠀
.⁠⠀
Created with care, attention and understanding, I am beyond excited to introduce to you.⁠⠀
⁠⠀
TRIPHALA PIGMENTATION CORRECTOR ⁠⠀
⠀
Some of you in the community will already know this product or have tried it in part of my trial series since 2018 or have been chatting to me in DMs with regards to tackling hyperpigmentation and treatment but for the rest of my friends here it is……😊⁠⠀
⠀
Hyperpigmentation is literally the bane of my existence especially the dark marks left behind from acne that take 8-9mths to fade. From the very inception of this IG account, hyperpigmentation is a topic that has fascinated me – tackling hyperpigmentation related to melasma, understanding melanin sensitivities in different skin tones, especially darker skin tones, looking at sun damage and ageing related pigmentation irregularities across all skin tones. ⁠⠀

The formula is a deviation from the usual route of active treatments. It houses over 12 absolute powerhouse ingredients which will help you towards your goal of even skin tone carefully managing efficacy with melanin sensitivities.⁠⠀

Triphala Pigmentation Corrector – starts work at the microbiota level with a new generation of skin melanin regulator molecule that is activated by the stratum microbium. It restores even skin tone by blocking the melanogenesis process at several levels, thus controlling the darkening of the skin and reducing pigmented spots. It also protects the skin and prevents inflammation, therefore controlling skin redness and clarifying complexions across diverse skin tones. ⁠⠀
Microalgae actives in encapsulated liposomes work to preserve natural tone, help fades dark spots and even skin tone with its innovative pigment modulation mechanism which impacts only the most active melanocyte areas.
One of the most underrated ingredients in skincare period – Ayurvedic powerhouse and the ultimate glycation breaker Terminalia Chebula has an array of qualities from tyrosinase inhibition to maintaining hydration by preventing the breakdown of hyaluronidase enzyme, it also addresses skin tone especially "yellowness" associated with glycation in the skin. Combined with potent brightener Amla and Terminalia Belerica they form a pro healing and even skin tone balancing trio called Triphala.
An Innovative and fast penetrating Peptide Acetyl Glycyl Beta-Alanine from Taiwan works to disrupt melanosome formation, melanin synthesis and melanosome transportation working to diminish the appearance of hyperpigmentation, dark spots and prevent new pigmentation from forming.
A hydroxystilbene (other than the usual Resveratrol) that shows significant brightening results in as little as 14 days which are further amplified when combined with melanin support actives Hexylresorcinol, Niacinamide & Milk Thistle
WARNING SIDE EFFECTS – reduced appearance in pores (a few actives have synergistically come together to reduce the appearance of pores and honestly it was a side effect that I am liking).
LAUNCHING SOON SIGN UP AT SACHISKIN.COM

⁠⠀