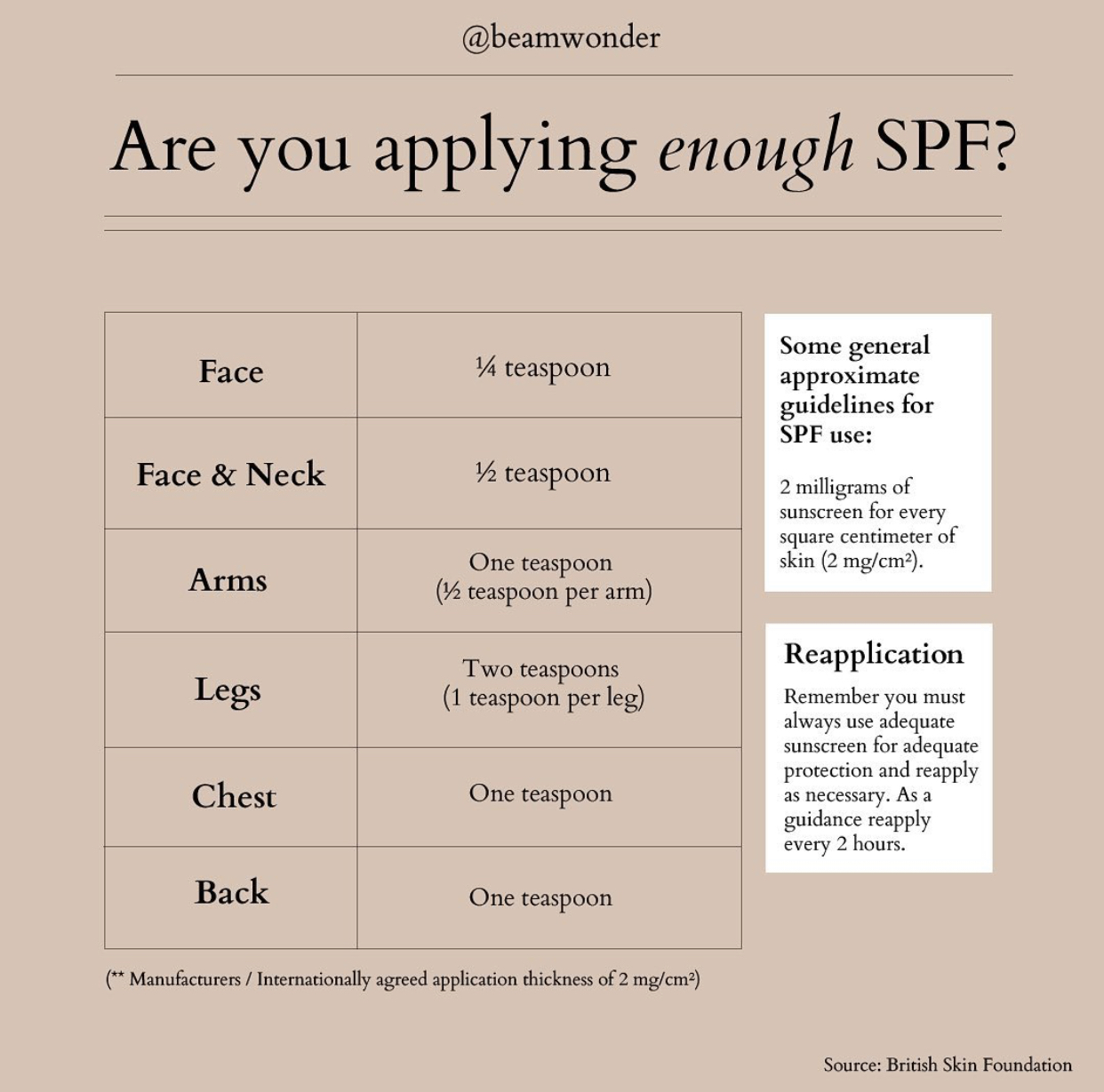 Are you applying enough SPF? ⁠
After what felt like a bombshell moment in SPF application last week and thank you to @carolinehirons for really starting a huge conversation around this.
⁠.⁠
I think it is just so important we understand some basic guidelines for Sunscreen use. These can vary between organisations/bodies and official recommendations change regularly but the total UK/ EU Guidance is 36grams or 6 **full heaped teaspoons (6ml) for the body and depending on spoon measurements total teaspoons can vary (5-6mls). (Cancer.org Australia sets 5ml per standard not heaped teaspoon and 35ml or 7 teaspoons for a full body application).
These tables are guidelines we are all different in size. I am petite but for someone taller you will probably need more on your arms, torso and legs than what this table shows.
Using your judgement is the key always opting for more when applying. Variables impacting your overall coverage and protection are:
*Type of sunscreen (thickness/liquidity)
*Your unique body surface area adhesion
*How you personally measure a heaped teaspoonful or if you are using 3 finger lengths the size of your hands
*Areas body exposed / wearing UPF clothing.
These details are taken from the British Skin Foundation. (UK charity). ⁠ I usually apply more on the body than the quoted amount here but I would say I can end up using about 1-2 tablespoons on exposed areas. For my face, ears and neck I use about 3 finger lengths. Plus I use a spray SPF for my scalp sometimes as my scalp often burns. I also use more on my arms and less on my legs if unexposed. So practice good judgement with SPF. These are guidelines and not exact guidelines for YOU.
Now if you are tackling hyperpigmentation make sure you do not skip or take this step lightly. It makes no sense for you your hard earned money on products if you are not taking this step seriously. You are honestly undoing all your hard work and in fact you may even notice your hyperpigmentation worsen.
⁠.⁠
As the weather warms up please stay safe in the sun and reapply often if needed. ⁠Safe sun practices are not only for our beach days. ⁠⁠
⁠⁠
Happy Easter friends xxxx