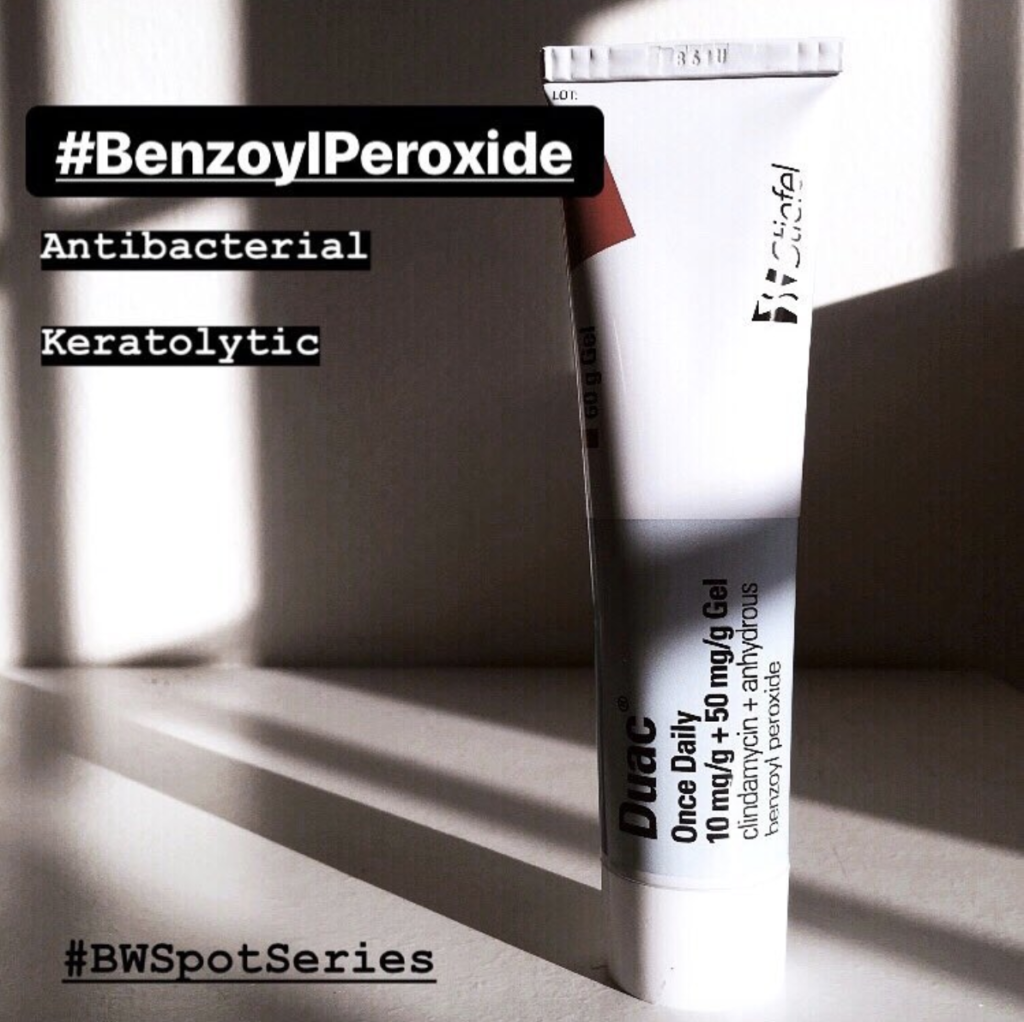 Favourite Ingredient for acne – This is not my fav but a derm and doctor fav!
.
Good old "Benzoyl Peroxide" and /or Clindamycin Gel
.
How many of you have been prescribed this one?
✨ Duac Once Daily Gel ✨
What is it? A medicine for acne treatment – moderate, mild maybe the odd cyst, time of the month spots. Here we have Benzoyl Peroxide (BP) combined with an antibiotic but you could see it with other combinations such as salicylic acids, retinoids etc. #BWSpotSeries
.
Active Ingredients:
1% Clindamycin – an antibiotic that kills P.acne bacteria and prevents the growth of bacteria
.
5% anhydrous Benzoyl Peroxide – a medication, known as keratolytic (breaks down keratin, causing the top layer of skin to shed). This helps to reduce and prevent the formation of new comedones or blockages dead cells . It also has an antibacterial effect that kills P.acne bacteria and makes the skin less oily. This is a 5% BP treatment but BP is effective at 2.5 -5 & 10% however there are greater chances of irritation with higher dosages.
.
Clinical studies:
✏️ The studies on BP and CM are extensive.
✏️ Clindamycin/benzoyl peroxide is an effective and well-tolerated option for the management of mild to moderately severe acne (McKeage K, et al, 2008).
✏️ It is a suitable alternative for patients who are currently using topical antibacterials either alone or in conjunction with other topical anti-acne agents or systemic antibacterials (Warner GT, et al, 2002).
.
Other ingredients:
Carbomer 980, dimeticone 100, disodium lauryl, sulfosuccinate, disodium edetate, glycerol, silicon dioxide, poloxamer, purified water, sodium hydroxide
.
Side effects:
👎🏻 Dry Skin
👎🏻 Redness
👎🏻 Burning
👎🏻 Skin peeling
👎🏻 Oily skin
.
Caution:
BP may increase skin sensitivity so putting on sunscreen is a must!
.
Disclaimer:
This is a prescription product so you would need to ask your doctor first before using this product. However, there are retail options like La Roche-Posay Effaclar Duo acne spot treatment which has 5.5% BP.
.
This was probably the third of my long list of treatments I tried with the dermatologist before I was bumped up the list next in line for Roaccutane. This does work on moderate acne and when my acne came back after my first dose of Roaccutane this was prescribed to me again 🙁before going on to take my second dose of Roaccutane.