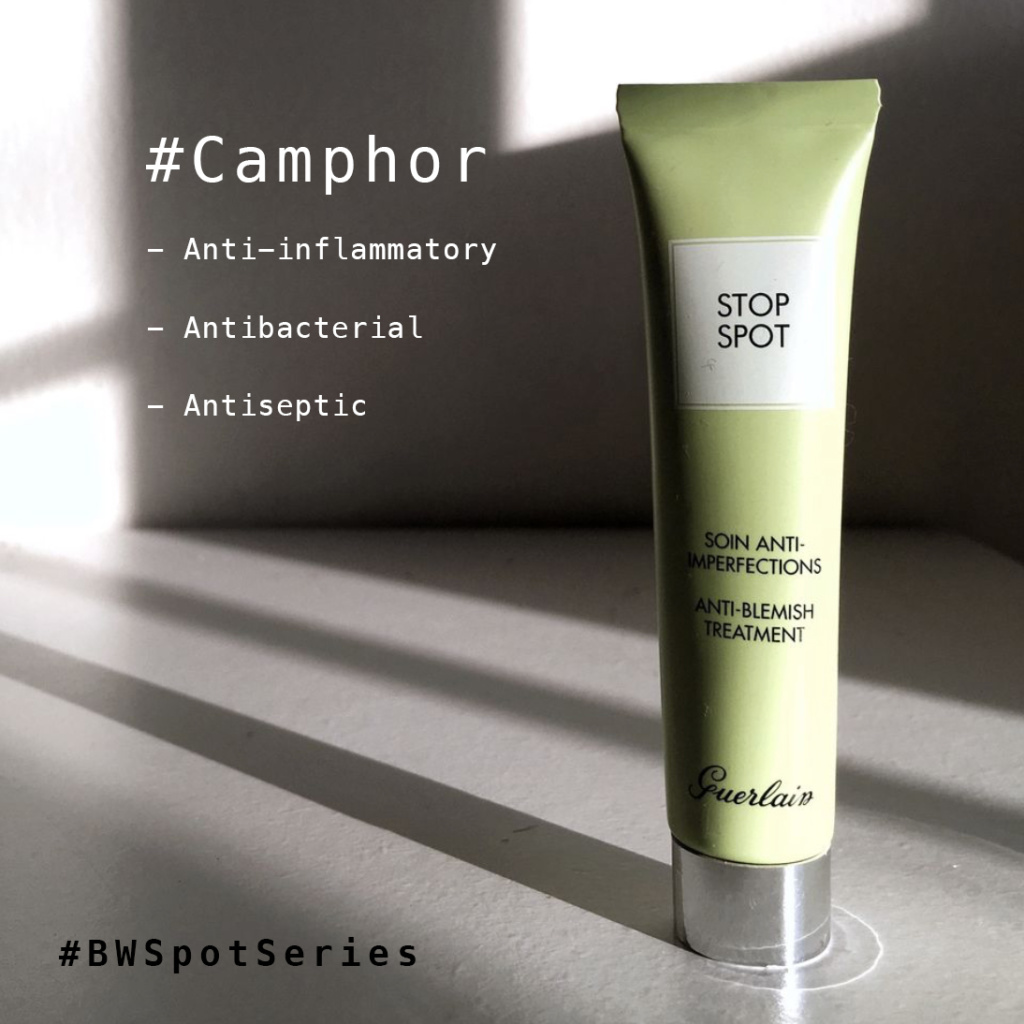 Continuing on with the theme of natural pimple treatments, this naturally occurring compound extracted from the Cinnamomum camphora tree has long been used in ancient healing remedies. Guerlain's Stop Spot first launched as Crème Camphréa in 1870! ⠀⠀
SKIN BENEFITS:⠀⠀
Anti-inflammatory – Curbing inflammation, (regarded as one of the main causes for acne) making the skin less susceptible to acne and pimples, leaving a cooling and soothing effect. ⠀⠀
Antibacterial – The compound in camphor stimulates the nerve endings, giving instant relief to any itchy or painful skin. Moreover, it calms the redness on the skin.⠀⠀
⠀⠀
Antiseptic – Soothing and cooling, prevent infection and pain. But avoid applying to fresh burns or broken skin.⠀⠀
⠀⠀
STUDIES:⠀⠀
An article pointed to camphor being especially helpful to people with oily skin (Stellar, 1992). "Proven to be a great astringent for the skin, it tightens the pores, eliminates impurities and oils and purifies the skin". Yet I haven't been able to locate this or strong supporting clinical trials.⠀⠀
⠀
Does that mean it doesn't work?
Well… as with most ancient healing remedies, there are not enough studies as one would like to see. The great news is as more and more natural cosmetics are coming to the market, some of these long forgotten ingredients are also coming back e.g Gotu Kola (Centella Asiatic or as known for thousands of years in Ayurvedic medicine- Brahmi). So hopefully we will get to see more supportive studies.⠀⠀
CAUTION:⠀⠀
Too much can act as an irritant, avoid using when pregnant, avoid face area if you are asthmatic.⠀⠀
MY EXPERIENCE: ⠀⠀
Guerlain's Stop Spot has a high concentration of purifying Camphor. It also includes salicylic acid and zinc oxide so it is very difficult to ascertain whether camphor alone is a star acne ingredient here. Also, Mario Badescu and Malin Goetz are great products but the star congestion clear buy for me is the Eve Lom Rescue Mask!⠀⠀
For me, Stop Spot is soothing, non-drying, counteracts redness, has a slight camouflaging effect, and works best when left overnight. I personally feel it works best as a preventative treatment and for camouflaging redness during the day. It is not strong enough to deal with one of my angry red pustules which crop up.