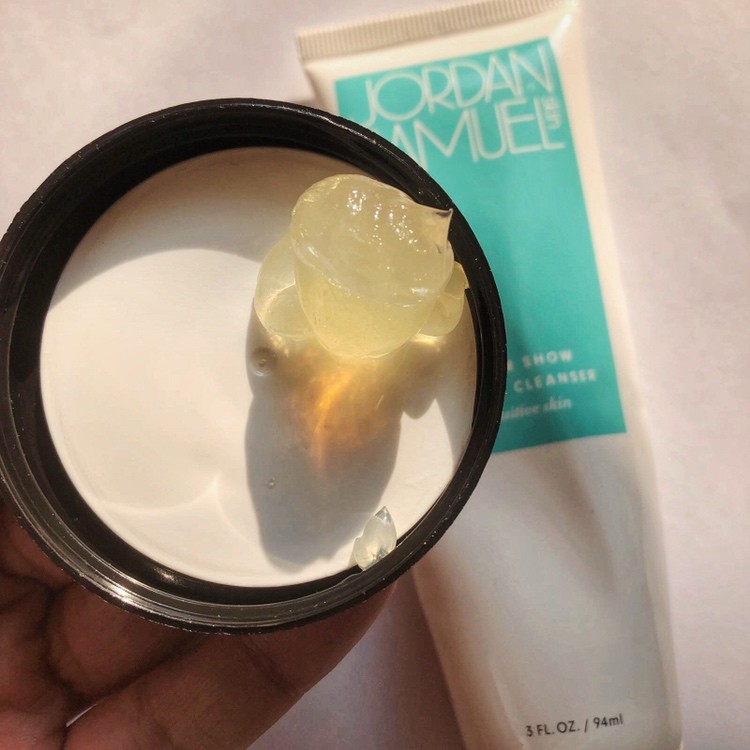 I haven't done a #TextureTuesday shot in a while so here is a dollop of oil-gel balm cleanser from @jordansamuel (Jordan Samuel Sensitive Gel Cleanser) Which has been working extremely well for my reactive skin. This includes Aloe Leaf Juice, Green Tea Extract, and Chamomile Extract- calming, soothing, gentle action my skin has absolutely enjoyed. The best part is it does not irritate my eyes which is such a bonus as so many "basic" cleansers do. This works very well as a morning cleanser or 1st step cleanser as part of a double cleansing routine, it emulsifies easily and rinses well to leave the skin feeling clean, unstripped with no leftover film or residues.⁠

If there is a con, I did find this does not work well if you are looking to use this as a cleanser to remove makeup in addition to cleansing your face. ⁠
⁠
Overall. 4.5/5⁠

It would be a repeat buy if I could get hold of it easily but unfortunately, this was a costly international shipment (as I did add to my basket the heavy body exfoliator). ⁠
⁠
Full Ingredient list:⁠
Ingredients: Caprylic/Capric Triglyceride, Olea Europaea (Olive) Fruit Oil, Glycerin, Water, Sucrose Laurate, Caprylhyroxamic Acid, Aloe Barbadensis Leaf Juice, Camellia Sinensis (Green Tea) Leaf Extract, Anthemis Nobilis (Chamomile) Flower Extract, Calendula Officinalis Flower Extract, Vitis Vinifera (Grape) Seed Oil, Simmondsia Chinensis (Jojoba) Seed Oil, Tocopheryl Acetate, Propanediol, Capryl Glycol⁠.