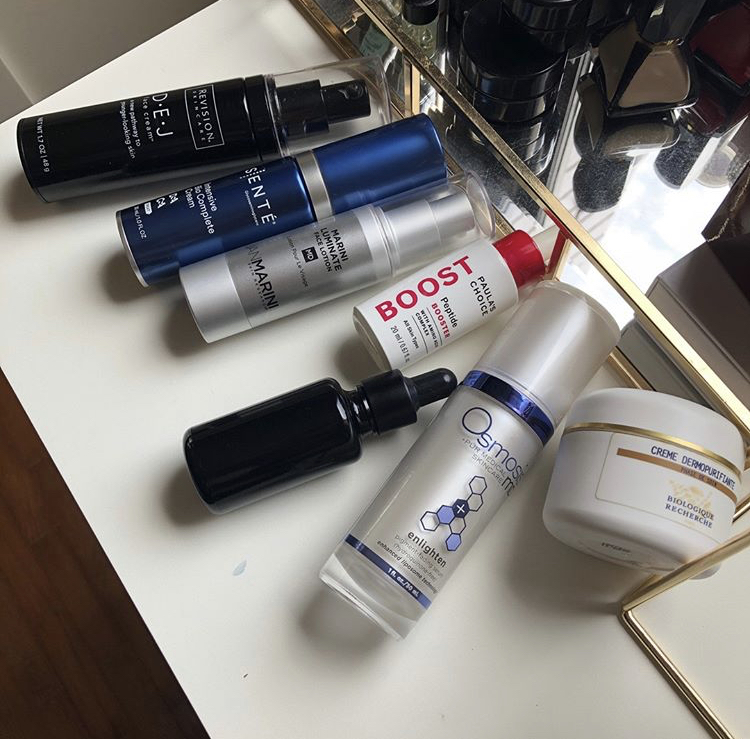 Just a vanity situation here….🤗⁠
🌙 PM⁠
⁠
@Paulaschoice Peptide Booster – No concrete thoughts on this just yet, however it is definitely very easy to use, apply and layer. ⁠

@argentum Face Oil I have not been a huge user of Face oils for the last 2 years mostly weaning myself off the whole face oil craze and sticking a few staple blends but I have found myself reaching out for them a bit more often lately. I am especially enjoying the recent seed oils I have tried which have been a good Omega fatty acid addition to some of my moisturisers. This is such a beautiful dry finish oil that leaves my skin feeling incredibly radiant and supple without causing breakouts. Ingredients: Argania Spinosa (Argan) Kernel Oil*, Crambe Abyssinica (Abyssinian) Seed Oil, Aleurites Moluccana (Kukui) Seed Oil, Tocopherol.⁠

@Sente-Intensive Bio Complete Cream- A great hydrating Retinol Intensive treatment, this has quickly become one of my absolute favourite retinol serums. I highly recommend this one if you are looking for a good high-grade retinoid night treatment. ⁠

@Janmarini Luminate Face Lotion – Non-Hydroquinone face lotion to address hyperpigmentation with a mix of brighteners and retinol. Sid (among the few) sent me this last year and I love exchanging chats with him because he is an equal skincare obsessive with deep knowledge and understanding on skincare formulating.⁠

@Biologierecherche Dermapurifiant one of the most deceptive creams I have used in a very long time (😂). Beautifully rich, thick, creamy with lanolin and yet at the same time incredibly drying if you overuse. I would really recommend using this only on areas where you have troubled skin concerns (suffering breakouts or looking to prevent breakouts) and refrain from using this all over the face as it is a treatment cream so you could end up overusing this easily (note it already includes Salicylic Acid for those layering BHAs in their routine ). ⁠Again love this cream but I use this sparingly. ⁠